Are you ready to start to managing remote employees?
You may be excited to take on your first remote team members– maybe an existing employee is going remote or you were hired to manage a fully distributed team– but are you familiar with the challenges that come with it?
According to prolific angel investor and found of AngelList, Naval Ravikant, remote work is the future we all must get ready for: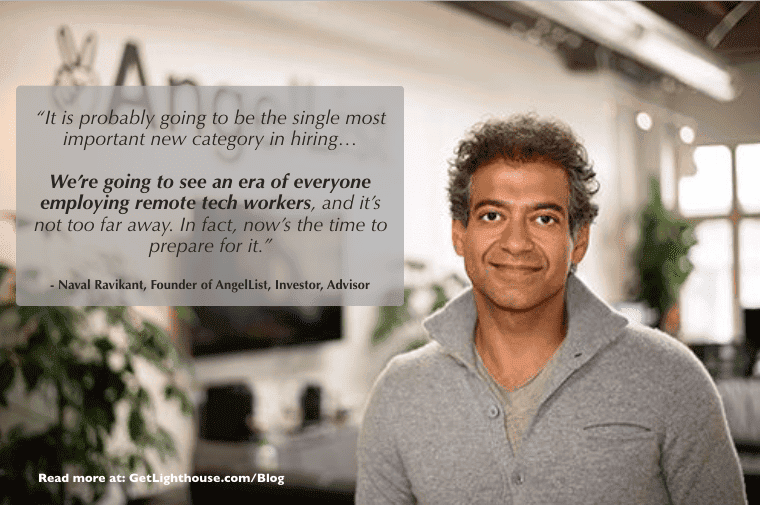 Ravikant is right. Remote work has grown by 140% since 2005, nearly 10x faster than the rest of the workforce. Take a look at this list by Auth0 engineer Artu Klajnerok of companies with fully distributed teams by number of employees:
And that's just the tip of the iceberg, as Klajnerok found out after he posted the original list (he's since created a Twitter group with the complete list of distributed companies here):
In fact, over 4.3 million employees (3.2% of the workforce) now work from home at least half the time according to Global Workplace Analytics.
That's just the beginning, though. According to Owl Labs State of Remote Work 2019, 42% of remote workers have plans to work remotely more often over the next five years than they do now.
On top of that, 51% of on-site workers say they want to work remotely with 43% of U.S. employers saying they plan on offering more opportunities for remote work next year, according to a Condeco Modern Workplace report, so remote will only continue to grow.
Today, we're here to guide you through this change, whether you've already hired your first remote employee and need a tune-up, or want to better understand what it's like before you start hiring remote workers.
---
Table of contents
---
The Benefits of Remote Work
The rise of remote work might be unavoidable, and you should want to take advantage. Allowing remote work can benefit not only your employees, but you as a manager and the organization as a whole.
According to Owl Labs State of Remote Work 2019, more remote workers are putting in forty plus hours per week because they enjoy what they do when compared to on-site workers:
Not only do remote workers tend to enjoy what they do more and find remote work less stressful in general, but they're more willing to put in extra hours as a result. However, that's just one of the potential benefits of remote work for employees, managers, and companies alike.
The MIT Sloan School of Management's Executive Education Department reported in their Quality of Life Survey that when an employee has a supervisor that's open to flexible (i.e. partially remote) work, that employee is more likely to stay with the company.
MIT's Dr. Peter Hirst of the same department used those findings as inspiration to pilot a flexible work program, with the goal of changing the way his team perceived remote work. He wanted to see what would happen when the team's perception of remote work was changed from a rare privilege to a common opportunity any on the team could take advantage of.