Are you new to 1:1 meetings? Or are you already a fan and advocate?
Whether you're new to 1:1 meetings or are looking for a resource to help you make a case for others to have one on ones, this is the post for you.
It's hard to put a real value on soft skills. Yet, any good leader knows how important they are. Effective 1:1 meetings are the king of soft skills development.
At Lighthouse, we've been helping managers and their teams start and have better one on ones for over 8 years now. Over and over again we've seen how these meetings help managers and their teams.
If you've ever wished you had concrete evidence, and some real numbers, to prove that feeling you may have on the value of 1:1 meetings, then this is the post for you. And if you're a skeptic, this may help you see how you can quantify a soft skill's value in a way you can appreciate.
Table of Contents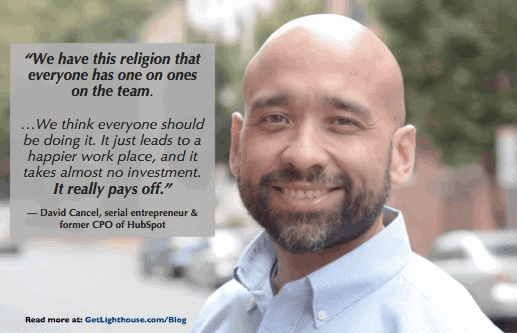 What is a 1:1 meeting?
For those new to 1:1 meetings, let's start with a quick summary:
A 1:1 meeting (also known as a "1-1", "1-on-1", or "one on one") is a meeting between a manager and an employee who reports to them.
As opposed to a typical group meeting where the purpose is status reports or to talk strategy, the purpose of a 1 on 1 meeting is to build rapport, coach, and give and gather feedback, all focused on the team member.
It's a personal space where that employee can open up about issues that might be holding them back and get help from you, their manager, to develop their professional skills.
If you've never run a 1 on 1 meeting before and you're interested in fast-tracking your path to having high-value, effective 1 on 1 meetings with employees, pick up our "Do's and Don'ts" 1-sheet:
Get Your 1 on 1 Dos & Don'ts guide: A simple resource to help you make the most of your 1:1s


Yet, even if you know the basics of the meeting, it does not mean you understand why they work so well, or can explain the value to someone else. Let's take a look at some of the research that answers those questions for you.
Part 1: The Quantified Value of Having 1:1 Meetings with Your Team
In a survey in the Harvard Business Review, executives of large organizations estimated that soft skills issues were costing them over $144,500 every day. Meanwhile, Gallup has found that 70% of the variance in employee engagement is caused by a person's manager.
1:1 meetings between managers and their team members can't solve all your problems. However, they can lead to improvement across a variety of common issues, including:
Poor communication
Lack of feedback
Career growth and development stalling
Unclear purpose of work
Lack of trust and confidence in their manager
Bottled up frustrations
Interpersonal and inter-team conflicts
This is why understanding the value of 1:1 meetings is so important. Getting started with them is often the biggest hurdle. Then, once you start having them, you realize how helpful they are to fix so many common problems.
Here's some of the best data we've seen on the value of 1:1 meetings...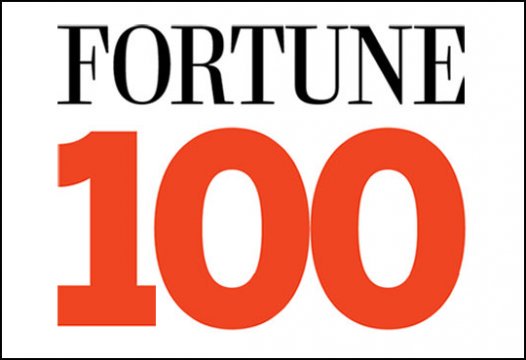 1) Employees of managers who don't have 1:1 meetings are 4 times as likely to be disengaged.
In a detailed study inside 2 Fortune 100 companies, the Microsoft Workplace Analytics team found some stark contrasts between teams with and without 1:1 meetings.
As reported in Harvard Business Review, they found:
"Perhaps unsurprisingly, employees who got little to no one-on-one time with their manager were more likely to be disengaged. On the flip side, those who get twice the number of one-on-ones with their manager relative to their peers are 67% less likely to be disengaged."
As they dug deeper into their data, it became even more clear:
"And what happens when a manager doesn't meet with employees one-on-one at all?

Employees in this situation are four times as likely to be disengaged as individual contributors as a whole, and are two times as likely to view leadership more unfavorably compared to those who meet with their managers regularly."
So not only does a lack of 1:1 meetings cause disengagement, it also makes employees think all of your company's leaders are poor.
2) 1:1 Meetings can offer huge boosts to retention and productivity.
Adobe and GE have both previously made a lot of noise in the press about their moves to get rid of performance reviews. When they did, they switched to having their managers do frequent 1 on 1 meetings instead (typically meeting every 2 weeks).
The impact was significant in both cases:
You can keep your performance reviews and still get the same benefits from 1 to 1 meetings. In fact, reviews and 1:1 meetings go together quite well as we've previously covered on the Lighthouse blog here.
Regardless of whether you keep your reviews, we see with this data, 2 large, well-known companies learned the benefits of these meetings in powerful (and profitable) ways.

3) Employees who do have regular 1:1 meetings with their managers are 3 times more likely to be engaged.
Gallup, the king of employee engagement reports, also has strong opinions on the value of 1:1 meetings. In their research across millions of employees, they found the difference in engagement for those having 1:1 meetings versus not was massive:
"On average, only 15% of employees who work for a manager who does not meet with them regularly are engaged; managers who regularly meet with their employees almost tripled that level of engagement."
Can you afford to have only 1 or 2 people on your team engaged? Look at what those engaged employees do better than disengaged staff:
Who wouldn't want 20% more productivity and profitability along with lower turnover, reduced surprise days off, and half as many safety issues? Some managers are crazy for not having 1 on 1 meetings that could bring all these benefits. Hopefully, you're one of the smart managers that does.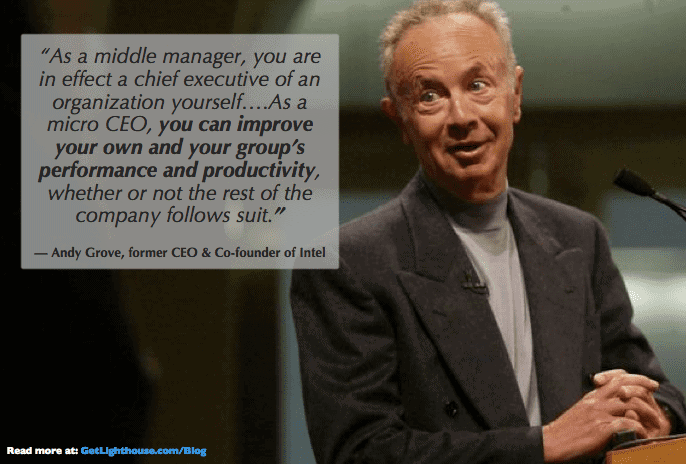 4) 1:1 meetings can help reduce turnover
We've talked about it many times on the Lighthouse blog: people leave managers, not companies. Your actions (or lack of action) impact the morale, motivation, and likelihood of turnover on your team. The data is overwhelming:
Salary.com
Research from Salary.com shows that 23% of employees look for a new job every single day. The same research also showed the majority of those searching cite having a "poor manager" or "poor relationship with manager" as their reason.
Gallup
Once again, we can turn to Gallup for statistically significant data from their massive surveys they run across America. What they found in 2022 is that, "Low engagement teams typically endure turnover rates that are 18% to 43% higher than highly engaged teams."


Given we know managers account for most of the reason someone is engaged or not at work, it's on a manager to use their 1 on 1s to uncover and fix issues related to their team being disengaged and considering leaving.
Hogan Assessments
Research by Hogan Assessments showed that 75% of employees considered their direct boss to be "the worst part of their job."
Finally, in another survey of 1,000 American employees conducted by Michelle McQuaid, 65% of respondents indicated they'd take a new boss over a pay raise.
Clearly, there are problems with a lot of managers. And we know from the stats from Gallup's and Microsoft's studies, that one of the biggest reasons for turnover, disengagement, and negative outlook on leadership is a lack of 1:1 meetings.
Want better 1:1s with your team? Learn how two leaders used Lighthouse to bring out the best in their teams: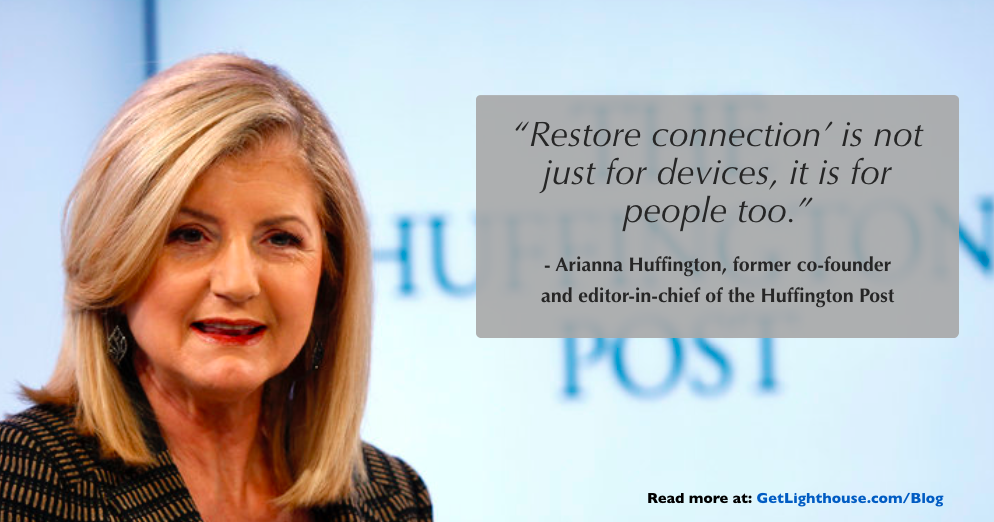 5) Employees who don't have regular 1:1s with their managers are more prone to burnout
According to Gallup's 2022 State of the Global Workplace report, stress in the workplace has reached an all-time global high. Gallup's latest research on workplace wellness has produced some worrying results – 1 in every 2 US employee reports having experienced stress during a workday.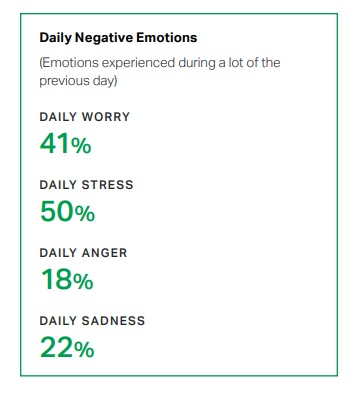 Unchecked and unmanaged work-related stress can quickly slip into burnout – as of 2019 officially recognized by WHO as an "occupational phenomenon".
While it's not considered a medical condition, burnout manifests itself through a variety of psychological and physical symptoms, such as a rapid decrease in confidence, social isolation, loss of sleep and even irregular heart rate, headaches, and stomach aches.
Some of these symptoms can, of course, be treated individually. But one of the best ways to combat workplace stress and burnout overall is responsible and proactive management, argues Mental Health America's Mind the Workplace 2021 Report.
As MHA states, supervisors have a responsibility to monitor and address burnout before it becomes critical. The organization's study – unsurprisingly – discovered a strong correlation (r=0.692) between having the opportunity to talk with a supervisor about managing stress and having a healthy work environment. And what better time to check in on people's potential burnout than the private, dedicated time of a 1 on 1?
Sadly, MHA's report has also shown that the majority of people don't get this opportunity: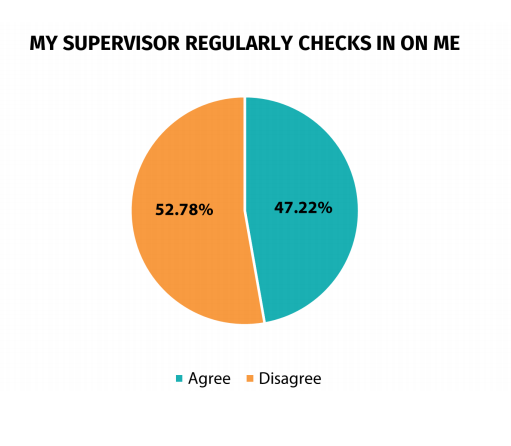 Without regular 1:1s, employees can easily slip into bad habits, disengagement, and increased risk of burnout. You won't know if you don't ask, and you need a dedicated time to talk about it because projects, life circumstances, and workloads all change regularly.
If you're worried about some of your team burning out, learn more about how to help your employees avoid burnout, as well as specific questions you can ask your team about burnout here.
6) Experienced leaders swear by the value and importance of 1 on 1 meetings
The evidence for the value of 1:1 meetings is not just a collection of numbers or stories from random managers. Some of the most respected entrepreneurs, CEOs, and investors swear by them as well.
Ben Horowitz, pictured above, was actually willing to fire a senior leader for not having 1:1 meetings as recalled in his book, The Hard Thing About Hard Things, and in this blog post.
From a CEO's perspective he emphasizes how critical these meetings are. He strongly believes they need to be baked into a company's culture, as the quote above continues on to emphasize how you prevent your company from becoming a "bad place to work":
"...one-on-ones provide an excellent mechanism for information and ideas to flow up the organization and should be part of your design."
Horowitz is in good company. Here are some of the many leaders that agree with him and have written about it:
Andy Grove, who built Intel from 0 to $20 Billion in revenue, devoted a whole section of his leadership book, High Output Management, to them.
Serial entrepreneur and angel Michael Wolfe wrote about why startups need them so much.
Serial entrepreneur, SaaStr founder, and investor Jason Lemkin calls weekly 1 on 1 meetings the #1 management hack
Senior engineering leaders Camille Fournier, Kate Matsudaira, and Mathias Meyer all deeply believe in their importance.
Buffer, who very publicly got rid of managers and suffered, found 1 on 1 meetings were one of the most important things to bring back to fix things.
Across industries and eras, it's clear that good management includes good, regular 1:1 meetings. Too often, these meetings are missed, which is why so many great leaders evangelize their importance.

Part 2: How to make the most of your 1:1 meetings
Now, hopefully you're convinced how important these meetings are, or you have the information you need to convince others. However, as GI Joe used to say, "knowing is half the battle."
The other half is actually doing the right things.
Setting aside time to start meeting regularly with your team is a great start. However, what you do with that time is just as important. It's why we built Lighthouse to help managers like you.
If you need help getting started, or want to help someone else do so, these links below are a few good places to get started:
1) Tips for starting brand new
If you're brand new to 1:1 meetings, then you need to take a few key steps to start them well. These links will help you start on the right foot: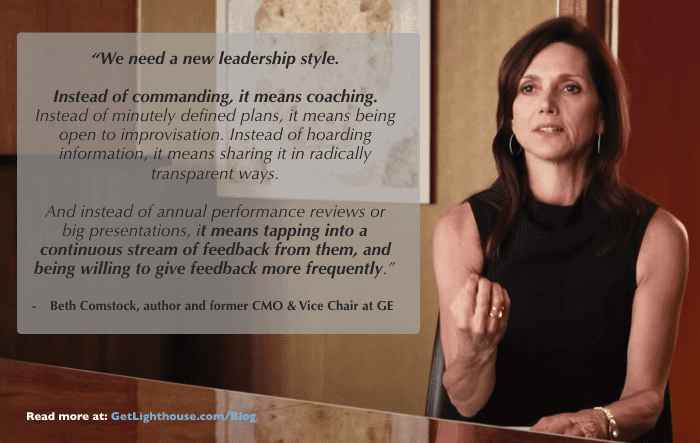 2) Tips for improving existing or inconsistent 1:1s
Maybe you tried 1:1 meetings in the past, or have them currently, but don't get a lot of value out of them. This is all too common. To turn them around, try some of these approaches: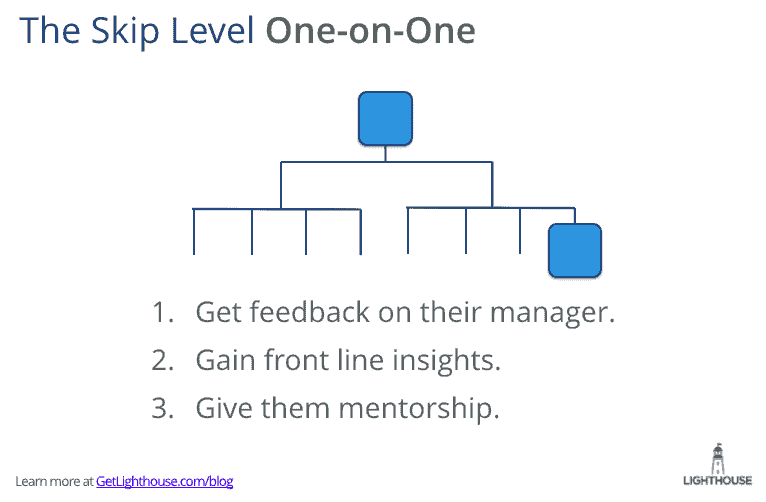 3) Tips for effective 1:1 meetings for advanced leaders
If you keep your 1:1 meetings religiously and your team looks forward to them, then these tips are for you. These are what other advanced leaders are doing that can expand and improve both the quality of your 1 on 1 meetings and performance of your team: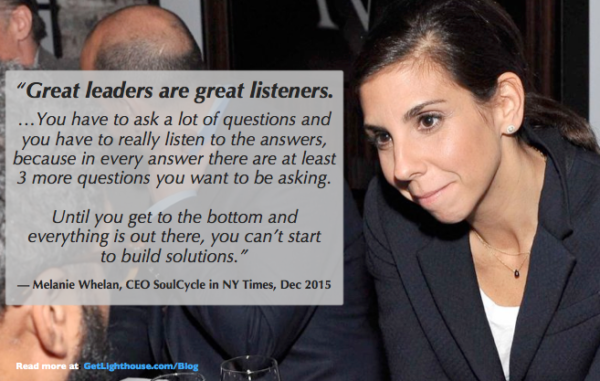 4) Tips for all levels: Use the right questions
Having the right questions on hand during your 1:1 meetings is so important, we needed to make them their own point. With the right question, you can:
Unearth the real issue hiding behind excuses and surface level issues
Build rapport, establish trust, and create psychological safety
Identify your employee's goals and dreams, and
Give and receive valuable feedback.
And that's just the beginning. The right question can help you discover valuable information or guide the conversation. Use them for what they are: one of your most valuable tools during your 1 on 1 meetings.
5) Final tip: Use an effective 1:1 meeting agenda
You may have been doing 1:1s for a while or you may have just started. Either way, if you want to make the most of your 1 on 1 meetings, you need to create a great 1:1 meeting agenda ahead of time.
That's because a 1:1 agenda will help guide your meeting and make sure you get the most from it, as opposed to going into it aimless and hoping for the best. Otherwise, without some prep and organization, you're just wasting you and your team member's time.
Start having frequent, awesome 1:1 meetings
As we touched on earlier, a surprising 65% of employees would take a new boss over a pay raise. If more of those employees had managers who took the time to have effective 1:1s, that number would be much lower.
Do you want to be a great leader who has amazing 1 on 1s with your team? Now is the perfect time to make improvements or start having 1 on 1 meetings– and Lighthouse can help.
Tap into our helpful reminders, simple prep, a library of awesome questions to ask, and more by starting your free 21-day trial now by clicking here.
Further reading
Want to dive into more helpful guides like this one?
The Lighthouse blog has a comprehensive collection of useful content designed to help you make the most of your 1:1 meetings, and become a great manager.
Here are a few guides we suggest reading next:
If you're more in a listening mood, check out our latest podcast episode on how to smoothly guide your team members through a 1:1 and understand how they're doing.
You can also listen to it via the embedded link here:
And if you're just starting out, pick up our do's and don'ts 1-sheet pdf to start having great 1 on 1s by following simple tips: