Remote and flexible work is a growing phenomenon. In 2016, 43% of full-time employees worked remotely at least part of the time, up from 39% in 2012.
Making this even more powerful, the working population has grown at the same time. During those 4 years, the U.S. workforce grew from 114 million in 2012 to 123 million in 2016. This means there are now 8.4 million more people who have made the switch to working remotely.
With over 50 million people taking advantage of remote work, it's no longer a luxury. Instead, it's increasingly common, and a key perk to offer potential job candidates.
A survey by After College found that 68% of job seeking Millennials were more interested in a company if they had remote work options. In a similar vein, a study by Stanford found that offering remote work options reduced job attrition by over 50%.
A Remote Experiment at MIT
MIT Sloan School of Management's Executive Education Department has been researching remote and flexible work. In their 2012 Quality of Life Survey, they found that if an employee has a supervisor who is open to flexible work, that employee is more likely to stay.
Inspired by these results, Dr. Peter Hirst, Associate Dean at MIT Sloan's Executive Education department, piloted a flexible work program for his group.
The goal of the pilot was to transform the team's perception of remote work from a rare privilege to a comon opportunity. They committed to the point they were willing to alter a person's job to make remote work possible.
The results? High marks across the board according to Dr Hirst:
90 percent of the team said that their family and personal life improved.
85 percent agreed that their stress was reduced.
80 percent said that morale and engagement improved.
62 percent felt more trusted and respected.
93 percent believed that collaboration was better than before.
Can remote work increase trust?
For many, remote work leads to a variety of concerns. It can lead managers to thinking about the worst possible problems:
Are my remote employees really working?
How do I know what they're doing?
Will everyone still be on the same page?
While these are all valid concerns, with some effort and planning they can all be avoided.
Thanks to careful planning, Dr. Hirst's teams avoided this issue. In fact, one of the most surprising things Dr. Hirst discovered, was an increase in trust between manager and employee.
More than half (62%) of employees reported feeling more trusted and respected by the end of the pilot. Dr. Hirst suggests this improvement happened because a change in cultural perception of work:
"We went from a culture of assuming people were working because you could see them working to having a clearer understanding of what outcomes we're trying to achieve and trusting everyone to be a professional.

…The [employee] engagement that we got from that change of management relationship was really tremendous."
Strengthening Communication Among a Distributed Team
If your organization includes remote workers, you need to support and enable them. Every employee should be able to work effectively and be fully engaged no matter where they are located.
One of the most important ways to enable remote workers is by supporting them in your meetings. They are more of everyone's jobs than you may realize: A study by Atlassian found that most employees attend 62 meetings per month!
Much like Dr. Hirst had to change some roles to support remote work, supporting remote employees during group conversations required some adapting, too.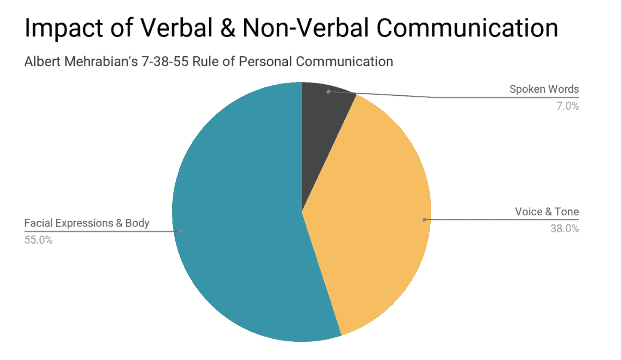 The Secret to Remote Work: Great Video
The best way to support your remote workers in meetings is to use video. When you you only use audio, they are only receiving half the message. Research by Albert Mehrabian showed just how much of human communication is more than words.
When breaking down the components of communication, 55% comes from facial expressions and body language, 38% comes from from vocal inflection and tone of voice, and 7% from the words themselves. Audio is only telling you half the story.
You wouldn't send someone an email with every other word missing, would you? Yet, every day managers cut communication in half with a remote worker by only using audio in a meeting.
Using video helps everyone better read emotions, and understand who is speaking or anticipate who is about to talk. It also helps retention; research at the University of Wisconsin found that meeting attendees learn 200% more with face-to-face communication than with audio alone
However, simply turning on a camera doesn't guarantee that remote staff are getting the full visual context they need to actively contribute.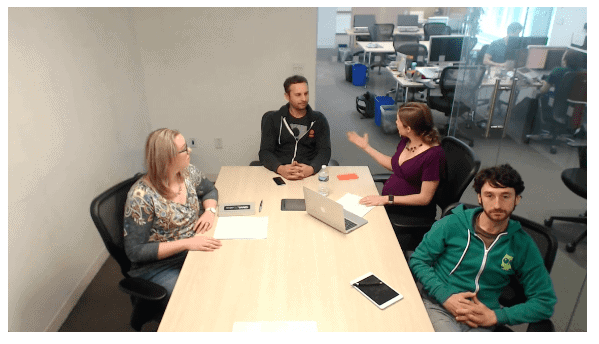 Remote Meeting Fails: A Director of Engineering's Challenge
David Pitkin, Director of Engineering at a security company in Boston, is a strong proponent of remote working. He has had remote workers on his teams for years and ensures every meeting uses video.
Unfortunately, not all video technology is created equally. When trying to run his weekly leadership meeting with team members in two offices and others who are fully remote, he was constantly struck with audio issues and video problems.
A familiar tune...
If you've ever tried to run a meeting with others outside your office, you've felt this pain. Whether failing to connect to the meeting software or getting the camera positioned right, Pitkin was constantly losing time to issues.
Even once everyone was online and connected, people were poorly lit on the screen, the view was often awkward, and the audio would break up for people. This wasted precious time in the meetings and hurt everyone's ability to participate and make the most of them.
One of the biggest problems Pitkin experienced was how hard it was for people on the call to see the faces and body language of those in one of their office conference rooms. Without visual cues, it was difficult for remote team memebrs to follow the discussion and actively contribute. This created an inequality of ideas and participation in meetings.
Pitkin didn't want people punished for their location, so he needed to fix this.
He started looking beyond basic video options. He needed to find a reliable option that could give remote team members the feeling "as if they were in the room with us."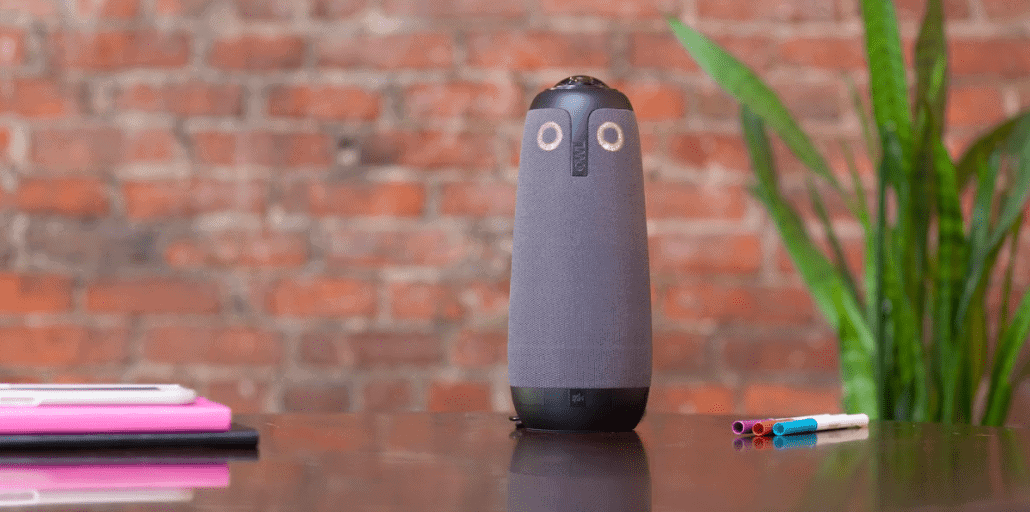 Finding video technology that really works for your remote teammates

In his search for something better than the usual fixed wall camera, Pitkin discovered a new video conferencing camera called the Meeting Owl. It was specifically designed to improve the meeting experience for remote attendees.
With a 360° camera, panorama view, and auto-focus on whoever is speaking, it addressed many of his and his team's biggest frustrations in meetings.
The Meeting Owl improves on the experience before and during the meeting. With simple USB connection to any laptop or computer, there's no need for IT installation. It works out of the box and quickly allows any meeting organizer to connect it to their preferred video conferencing software (i.e. Zoom, Google Meet, Skype, Webex, etc.).
While the Meeting Owl experience was designed to enhance a team's connection with their remote employees, it can also help connect fully distributed teams across multiple offices.
For example, Pitkin has a group in Boston as well as an outside suburb. He purchased Meeting Owls for conference rooms in both locations in order to better strengthen communication between those two offices as well.
A small change in video with a Big Impact
Since starting to use the Meeting Owl, Pitkin has seen strong improvement in the quality of their meetings.
Now, his team members can all see each other clearly (and all the non-verbal communication). This has led to more participation by everyone in meetings regardless of their location. They also save time starting each meeting, as they know everyone will now be able to quickly and easily see and hear everyone.
"It's important for company leaders to invest and care for the health of all their employees." - David Pitkin

Companies regularly invest in their office staff to give them the right desk, equipment, and tools to do their jobs. Tools like the Meeting Owl provide your remote team members an essential tool to work effectively with your in-office employees.
Communication, engagement, trust, and collaboration are key elements of a successful and cohesive team. As your organization expands its remote work opportunities, consider how you need to adapt your tools and approaches to support those working remotely.
Need help making the most of your meetings that include remote staff? Get a demo of the Meeting Owl to see for yourself how it eliminates the fly-on-the-wall experience of your average conference room video.
To learn more about the Meeting Owl, request to see a demo of the experience to see if it could be a fit for your team.
This is a sponsored post written by Rebecca Corliss. Her passion is supporting and enabling teams, and it was that same passion that attracted her to Owl Labs, the creator of the Meeting Owl.