One on one meetings are a cornerstone to any effective manager <-> team member relationship from small startups to giant companies. What you talk about, and the one on one meeting questions you ask, make all the difference in the performance of your team.
It's why Andy Grove, legendary founder of Intel and author of High Output Management, said this about one on ones: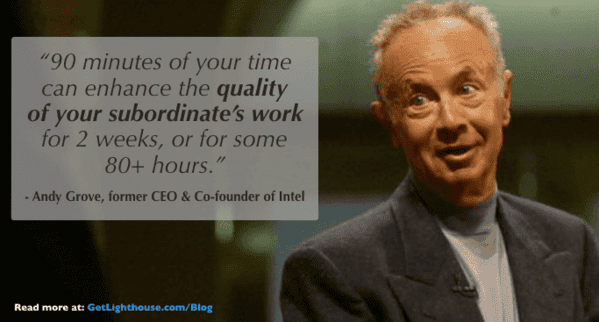 Over the last few years I've spoken to hundreds of managers, and making the most of one on one meetings is one of the biggest differences between good, effective leaders, and bad, frustrating managers. It's why the company I helped found, Lighthouse, is built to help you make the most of them.
So what should you talk about?
There are a variety of topics you can cover in your one on one meetings. Most are things you would rarely, if ever, get a chance to talk about otherwise, but can have a huge impact on your team's morale and engagement.
Even better, because you're having them in a private setting with a decent amount of time (hopefully 60 minutes, but at least 30), you can dig into their responses and really explore their answers, ideas, frustrations, and feedback by asking good follow-up questions.
102 One on One Meeting Questions Great Managers Use to Create High Performing Teams
[Ed note: This post originally appeared as an answer on Quora. If you find this post and others on the Lighthouse blog helpful, please go here and upvote Jason Evanish's answer.]
For each of these key topics to cover in your one on one meetings, there are different questions that are best to ask to foster a great conversation. Those categories include:
1) Building Rapport & Trust
2) Talking about Career Development
3) Giving and Receiving Feedback

4) Talking About Ways to Improve Your Team or Your Company

5) Checking in on their General Happiness
6) Special Questions for Remote Employees
Finally, there are also a couple of questions you should ask every time to make sure these are good, productive conversations going forward. Without these, you can lose momentum and your team may disengage from sharing or talking much in your one on one meetings.
Let's begin.
1) One on one meeting questions for Building Rapport & Trust
The foundation of any good manager and team member relationship is rapport. If your team doesn't feel like you care about them as an individual, they're unlikely to be motivated to work hard for you.
This chart from Gallup powerfully summarizes that fact: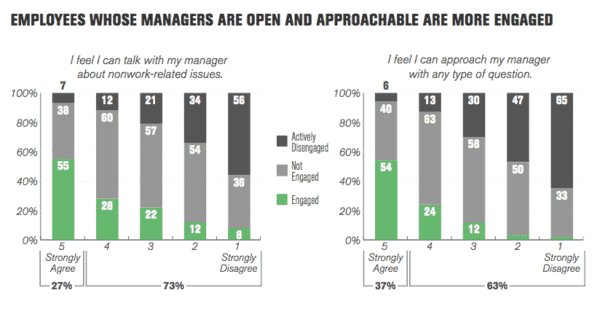 As you can see, if your team doesn't feel like you care about them and trust they can come to you, there's almost zero chance they'll be engaged at work.
Put more simply, Camille Fournier, former CTO of Rent the Runway and author of The Manager's Path, has learned:
So how do you create that trust?
Creating trust and building rapport is easier than you may think. As Fournier suggests, all you need to do is take an interest in them as people.
By learning what's important to them, remembering what those things are when it counts, and working with them through personal challenges that occasionally affect work (divorce, children, sickness, family issues, injuries, etc) you build more and more trust, rapport, and loyalty.
The Emotional Savings Account
My father, who has an average tenure of 17 years with his accounting staff (industry average is ~3.5 years), calls this rapport you build an, "Emotional Savings Account."
When you do things to strengthen trust, or show you understand them, you're paying into the account. Then, when something difficult happens like a tough decision that affects them, no pay raises for a year, etc you withdraw from the account.
When the account is drained, you lose your good people, or they disengage.
Through the years, like any business, my father's company has had its share of ups and downs. He's retained good people because he does things to show he values his staff individually from day 1 all the way to their rocking chair retirement gift and dinner (coincidentally, his leading cause of voluntary turnover).
What's the balance in your Emotional Savings Account with your team?
Okay, so what do you ask to Build Rapport and Trust?
The short answer is to be human! Find out what's important to them and what their interests are. Start by getting to know them and then revisit asking about the things they care about in future one on one meetings.
Here's a few one on one meeting questions to ask to get you started:
1) How are you? How is life outside of work?
2) How do you feel your work/life balance is right now?
3) What is your rhythm? (A great lesson from Marissa Mayer)
4) What's one thing we could change about work for you that would improve your personal life?
5) If around a holiday: Do you celebrate [Holiday]? How was it?
6) How are your parents/grandparents? Where do they live? Do you visit them?
7) If they have children: How is [name of child] doing? (Ask something related to their age like starting school, playing sports, or other interests.)
8) What do you like to do in your free time? What are your hobbies?
9) What did you do for fun in the past that you haven't had as much time for lately?
10) What drives you? What motivates you to come to work each day?
Want more ideas? Not sure how to handle someone who is a different generation, ethnicity, background, culture, or life stage? There are over 81 ideas for building rapport right here.
2) One on one meeting questions for Talking about Career Development
What do you think is the #1 perk people want at work according to multiple studies by respected sources like Gallup, Deloitte, and Google?
It's not free lunch, health insurance, a 401k, or ping pong tables.
It's career growth.
Below is just one example of the myriad of data showing how much people want to grow:
And when they inevitably look for another job, according to a study by PwC, growth is what people look for in their next job, too: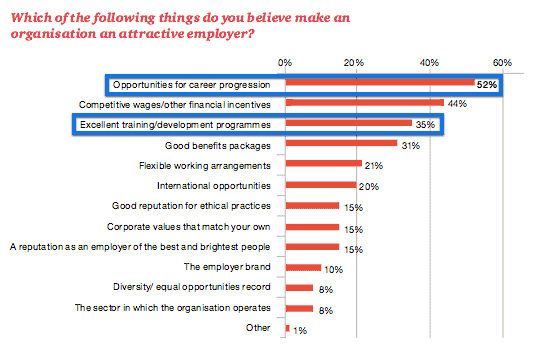 So your 1 on 1s are a great time to talk about their growth, because let's be honest, with everything going on, adding another meeting ad hoc to "talk about your career" falls into the "best intentions, but never happens" bucket.
Instead, every 3-4 one on one meetings, talk about their career development.
Start by establishing their goals.
At first, you need to establish what their goals and interests for growth are. These questions are a great place to start:
11) What work are you doing here that you feel is most in line with your long term goals?
12) As a kid, what did you want to be when you grew up?
13) What do you want to be doing in 5 years? 10 years? 3 years?
14) What are your long term goals? Have you thought about them?
15) Who do you really admire? Why? (People often admire those they want to become)
16) If you had millions of dollars, what would you do every day?
17) What are your superpowers? What powers would you like to develop?
18) What do you want to do in your next job?
19) Do you feel challenged at work? Are you learning new things?
20) What area of the company would you like to learn more about?
21) What skills would you like to develop right now?
22) Who in the company would you like to learn from? What do you want to learn?
23) What additional training or education would you like?
24) Are there any roles in the company you'd like to learn more about?
25) What do you think are the key skills for your role? How would you rate yourself for each of them?
When you ask these questions, some people on your team will know immediately what they want.
Maybe they want to start a company someday. Maybe they have a goal to be a CMO or CTO. Or, they could be narrowly focused on the next promotion in front of them like becoming a manager, senior associate, or Software Engineer III.
For those that don't know, you'll need to work more with them at this stage.
Questions 16-25 are all about uncovering them by first looking at what excites them about their work and what they're best at. People who get to work on their strengths are more engaged at work according to Gallup.  Help your team and actually help them long term as well by uncovering these.
Then, make progress together.
Talking about their goals is a good start, but it's not enough on its own. People need to feel progress on them.
You have to turn talk into action.
Taking action takes advantage of the Progress Principle that PhD's Teresa Amabile and Steven Kramer discovered is the key to sustained workplace happiness:
Here are some questions to ask to make sure you're making progress on their growth & development:
27) Do you feel like you're making progress on your big goals here? Why or why not?
28) What's one thing we could do today to help you with your long term goals?
29) Do you feel we're helping you advance your career at a pace you would like? Why or why not?

30) What are your big dreams in life? Are you making progress on them?
31) Could you see yourself making progress on more of your goals here? What would need to change to do so?
32) What skills would you like to work on most right now?
33) Are there any events or training you'd like to attend to help you grow your skills?
34) Who in the company would you like to learn from? What do you want to learn?
Sometimes you won't be able to make a lot of progress. Talking about why and setting the stage for what you can do in the future is a great way to keep them engaged anyways.
Want more help having career conversations with your team? Here are a few places to start:
3) One on one meeting questions for Giving and Receiving Feedback
Given the privacy of a one on one, and the trust you're building with them in these meetings, it is an excellent time to discuss feedback.
This is true for both coaching them on an area they could improve, and getting feedback from them. Either way, you'll have the opportunity to be candid with each other privately.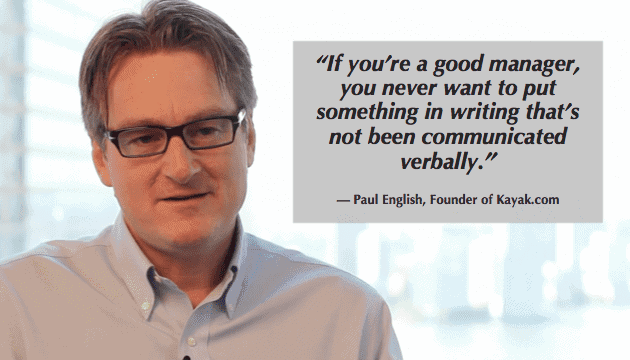 With privacy, and the healthy time set aside in a one on one, you can dig into a piece of feedback so you're on the same page. This avoids the defensiveness and resistance that can come from public feedback.
Feedback helps everyone get better.
If you want to help them improve, the best place to start is with feedback for them. Here are some questions to start that discussion:
35) How do you prefer to receive feedback?
36) Do you feel you're getting enough feedback? Why/why not?
37) What's a recent situation you wish you handled differently? What would you change?
38) What's an area of your work you want to improve?
39) What aspect of your job you would like more help or coaching?
40) How many hours a day do you feel you're productive? How could we help you be more productive?
As a manager, it's important to give your team feedback and coaching, and not just at review time. Research shows most people would like feedback more often: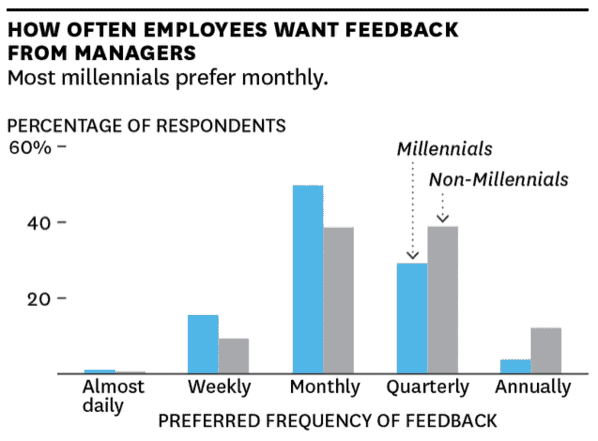 Asking questions like the ones above help you understand where they may be most receptive and interested in your feedback and coaching. Take advantage of this; they'll be particularly motivated to accept and work on feedback in those areas.
Of course, if they have other places you feel they need to improve you should share that with them as well.
The Pro Move: Tie feedback to their goals.
If you want to be a real pro, then that's where you should look to see how you can tie the feedback for them either partially to an area of interest they have (like attention to detail as part of them stating they wanted to improve presentation skills) or their career goals ("I need you to improve in this area for me to be ready to advocate for you to get that promotion.")
If you're looking to get beyond the stereotypical sh*t sandwich for feedback (Light praise – real feedback – light praise), then look to some of the tactics here to help you give better feedback.
Remember to get feedback, too!
Feedback is a two-way street. If you want to improve as a manager (and who doesn't have more to learn and work on?), then listening to your team's feedback for you is big, too.
Again, the right one on one meeting questions can open up valuable insights for you to learn from:
41) How can I better support you?
42) What could I do as a manager to make your work easier?
43) What is something I could do better? What is a criticism you have for me?
44) What aspects of your work would you like more or less direction from me?
45) What would you like to know about me?
46) What could I do to make you enjoy your work more?
47) What do you like about my management style? What do you dislike?
48) Is there a situation you'd like my help with?
49) What have your past managers done that you'd like me to also do or not do?
50) What's your favorite thing I do as a manager I should keep doing?
When you get this feedback from your team member, be as open as you can. Ask clarifying questions about recent examples, or the reasoning why they chose that. Don't be defensive.
If you're open to feedback and show you take it to heart, or explain why things are a certain way, you build more trust with your team. That then creates a virtuous cycle where they're more likely to share more feedback, and come to you when you need them to.
Having trouble getting feedback from your team? You can get some ideas for getting more feedback here.

4) One on one meeting questions for Improving Your Team or Your Company

The beauty of one on ones are their flexibility. You suddenly have this block of time on your calendar to talk about anything with your team member.
One of the surprisingly valuable ways is to talk about how to improve your team or the company; your team members often have priceless insights that can save you money and time, or improve things in ways you'd never realize on your own. You'd find out about them if only you took the time to ask!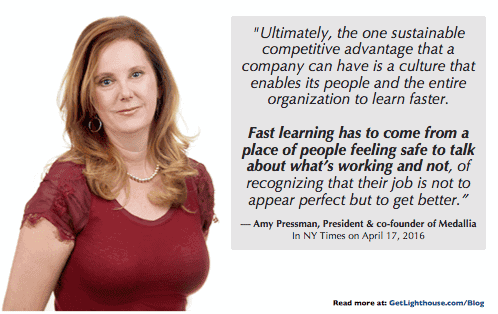 Remember: Everyone in your company has a different vantage point. They're often much closer to problems and opportunities with customers and other employees than you.
Here are some good questions to tap into exactly those kinds of insights:
About Your Company or Department:
51) What is the company not doing today that we should do to better compete in the market?
52) What's one thing we'd be *crazy* not to do in the next quarter to improve our product?
53) If you were CEO, what's the first thing you'd change?
54) Do you think our company is loyal to its employees? Why or why not?
55) Are there any aspects of our culture you wish you could change?
56) What are your favorite parts about our culture?
57) Which company values do you like the most? Which the least? Why?
58) What is the #1 Problem at our company? Why?
59) How could we be more creative or innovative as a company?
60) How well do you feel like you relate to your coworkers? Do you view them as friends, acquaintances, or strangers?
About Your Team:
61) How could we change our team meetings to be more effective?
62) What would convince you to leave for a job somewhere else?
63) Why do you think [employee who recently quit] left? What did they tell you?
64) Do you feel over-worked, under-worked, or just the right workload?
65) Do you feel like you're on the same page with the team? How often do you think you need meetings to ensure you stay that way?
66) Are there any meetings or discussions you feel you should be a part of that you're not? Are you included in any you don't want to be a part of?
67) Who would you like to work more often with? Why?
68) Is everyone pulling their weight on the team?
69) Who is kicking ass on the team? What have they done?
70) Who on the team do you have the most difficulty working with? Why?
71) What do you like most about working on our team?
72) Do you help other members of the team? Do others help you when you need it?
73) Are you uncomfortable giving any of your peer's constructive criticism? If so, why?
74) What's an inexpensive thing we could do to improve our office environment for the team?
The benefit of these questions are two-fold:
1) Get burning issues off their chest
If there's something that's really bothering them, then this is a great way to make them feel heard on something important to them. They may have a specific answer to one of these questions, or suddenly realizing this is a safe subject, bring up something else on their own.
The key here is you want to avoid having anyone on your team feeling what psychologists call "learned helplessness." This is what happens when things that bother them feel beyond their control for too long. Disengagement and turnover follow at that point.
Fortunately, simply the act of talking about them and finding even the smallest thing you can do to address it can go a very long way to making them feel better. This is another way to apply the Progress Principle we discussed earlier.
2) Get your people thinking like owners
The best companies have all their employees thinking about improving the company. It's a major key to Toyota's Total Production System, where even the lowest-ranking factory line worker is listened to for feedback and ideas.
If you ask a question like the ones above and they don't have a ready answer, keep asking some of them occasionally.
Over time, especially if they see you listening and acting on the feedback and ideas of others, they'll start looking for opportunities to contribute ideas, too.
[Ed Note: If you're looking for questions to ask in one on ones with another manage, these 51 Questions to Ask in One on Ones with a Manager can help.]
5) One on one meeting questions for Checking in on their General Happiness
If your team member is unhappy for a long period of time, it's going to affect their work, especially if work is the cause. As we mentioned above regarding Building Rapport, great managers care about their people.
As Jason Lemkin writes, you have to ask to know for sure.
It's easy to think you know, but you won't know for sure unless you tackle it head-on.  This is especially important if your team member is introverted. They're less likely to give clear indicators or directly bring up issues that are bothering them.
Again, this is where privacy matters. By using these one on one meeting questions, you avoid putting anyone publicly on the spot. You also make it safe for them to be honest about how they feel in a way they'd never be in a group setting.
These one on one meeting questions can help make sure you don't miss anything important to them, and get blindsided by a departure:
75) Is your job what you expected when you accepted it?
76) What do you feel is your greatest accomplishment here?
77) When was the time you enjoyed working here the most?
78) Are you happy with your recent work? Why or why not?
79) Are you happy working here?
80) Who are you friends with at work? (Shown to be a key to enjoying your job)
81) What's something you feel is undervalued that you contribute to the team?
82) What part of your job do you wish you didn't have to do?
83) What's not fun about working here? What do you enjoy most about working here?
84) What worries you? What's on your mind?
85) What would make you leave this job for another?
These are about action, not therapy.
Remember to make this a productive conversation. You are absolutely *not* their therapist.
Your goal is to uncover issues, and work together to address them, or suggest where they can (like a real therapist, if needed).
Knowledge is power. Once you know about a situation or issue affecting your team member, you can address it.  They might just have a good reason why they need to leave early some night, or come in late in the morning. Even small accommodations to help them will earn their respect, and pay into your emotional savings account with them.
Worried about low morale on your team? Here are some ideas of things you may be doing to contribute to it and how to fix it.
6) One on one meeting questions for Remote Employees