"People leave managers not companies" is a common refrain you'll hear when corporate leadership is discussed.
But is it really true? And if it is, why do people leave their managers?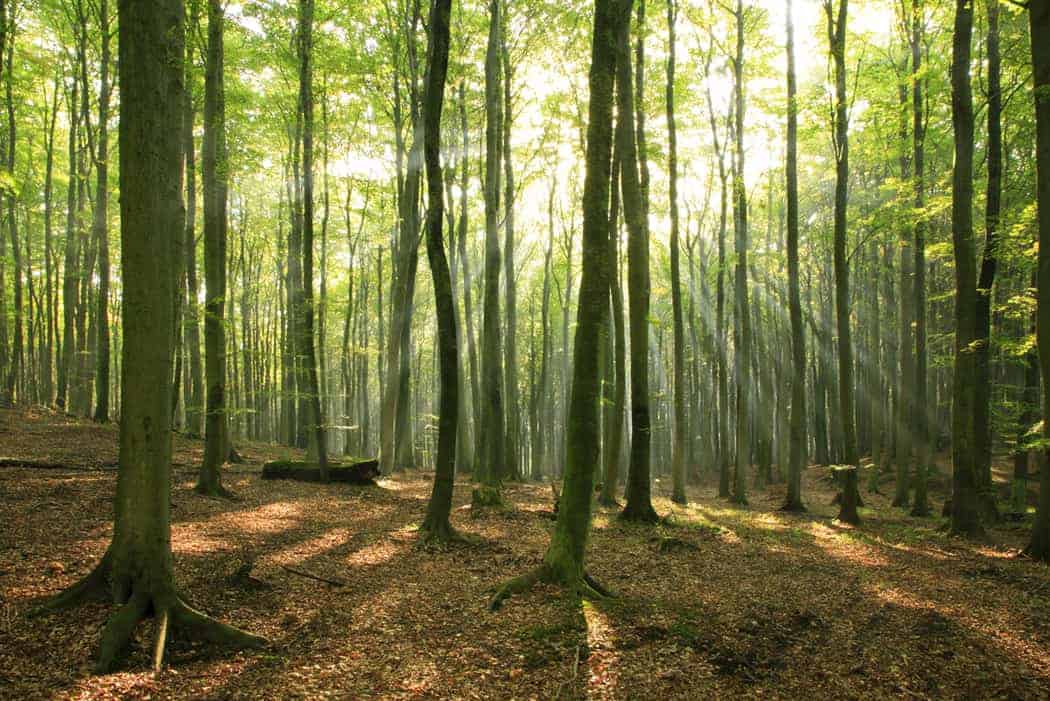 Missing the forest for the trees.
When you hear why your friend took their new job, you often hear these kinds of rationalizations:
"The pay is great": They got a raise or a better commission structure.
"The job is really exciting": They're excited for the new role and challenges.
"I really liked the people I'd be working with": They were drawn to the people they interviewed with.
All of these reasons make perfect sense. Unless a past job was *really* bad, most people don't want to be negative, and speak poorly about their past employer. They like to be optimistic that they're going to a new job, not away from their last job.
While all that is true, you can't get a new job unless you decide to take an interview. This means the root cause of someone leaving a company is the moment they decide to submit their resume, or finally interview at their friend's company.
The real reasons for turnover usually point squarely back at their manager. This is due to the manager's actions, or often, inaction, on what drives engagement and long term retention. Today, we look at this evidence for why people leave managers, not companies.
Table of Contents:
Why People Leave Managers, not Companies.
In Gallup's comprehensive study, "The State of the American Manager," they found a harsh truth:
50%

of Americans have left a job to

"get away from their manager at some point in their career."
So half of all Americans have had the #1 reason for leaving a job be their boss.
But given the career trends in America, most people have had multiple jobs. What about all those other jobs they've had along the way?
And what about the half that haven't felt the need to ever, "get away from their manager"?
The Rider rationalizes for us.
As we wrote previously about the Elephant and the Rider, we are as much emotional creatures as we are rational. We often make an emotion-driven decision, and then rationalize it later.
When it comes to leaving a company, this means that what we rationalize as the reason, may only be a small part of the actual causes. It's the hidden factors you don't hear in the exit interview that combine to cause people to leave their manager.
The Hidden Impact of Managers
Your manager impacts so much of your work experience. They help determine what projects you work on, who you work with, and when/if you get promoted. They're also the person most likely to be able to help you when you have a problem.
As Andy Grove, the former co-founder and CEO of Intel, wrote in his management classic, High Output Management, managers have significant control over their team's performance:
While he was focused on the positive aspects, the downside is equally true: a manager can damage the morale, motivation, and productivity of their teams based on their actions, or inaction.
Leaving a Job Because of Current Management By the Numbers
In Gallup's study of managers, they found that, "The manager accounts for at least 70% of the variance in employee engagement."
If you like your job, and are engaged, there's a much lower chance you'll go interview somewhere else.
Gallup's own findings showed the turnover difference for engaged vs. disengaged teams was dramatic: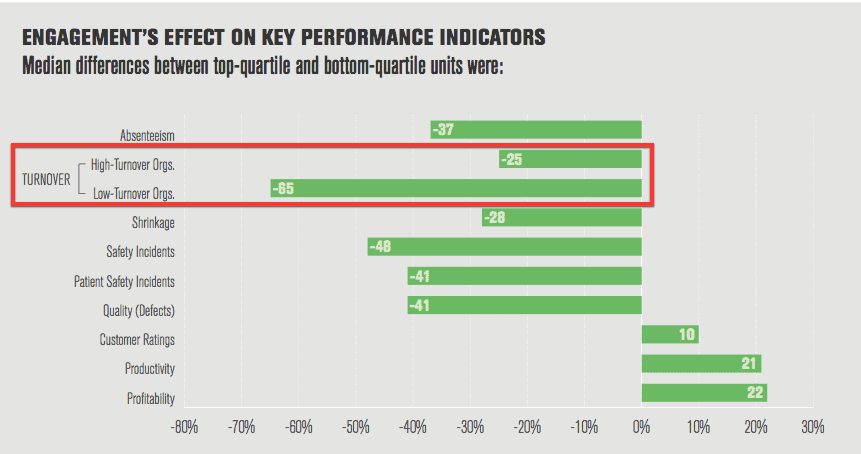 And unfortunately, we also know that in recent years the majority of employees have not been engaged: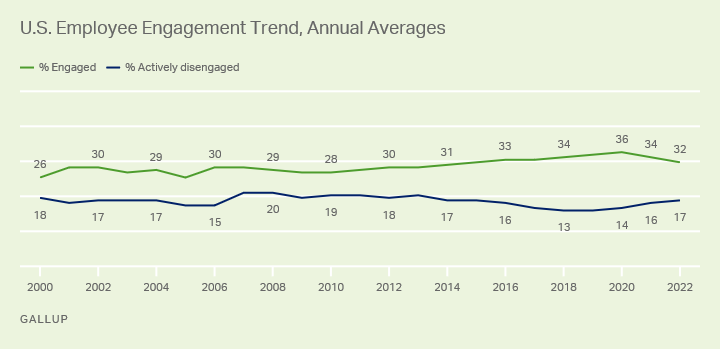 This means that most managers are not doing the things that drive engagement. These are your hidden factors why people leave managers, not companies.
Let's take a look at what these reasons are that people quit bosses they don't like working for, and how you can avoid being one of them.
1) Communication, communication, communication
Without open lines of communication, managers are setting themselves up to be blindsided by a valued team member leaving.
A team member's departure should never be a surprise. There are always warning signs, and opportunities to have fixed things along the way.
Unfortunately, those problems are easy to ignore, especially if your team is uncomfortable coming to you with them. It turns out that Gallup found that your team's comfort in coming to you, is one of the major keys to engagement: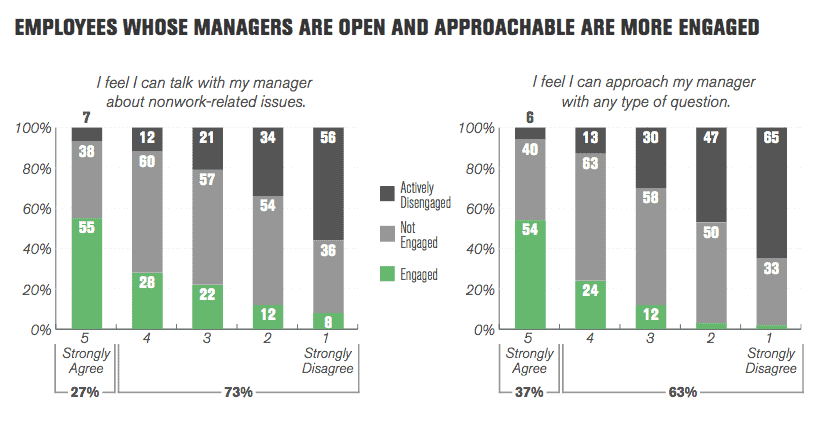 If a team member doesn't feel comfortable coming to their manager, you can see that there's almost no chance they're engaged.
That's not surprising, is it? If you were afraid to approach your boss, how would that make you feel about work?
Most managers are afraid.
A study of managers by Interact Studio and Harris Poll revealed that the fear goes both ways; 69% of managers are just as afraid of communication as their teams:
If both sides are afraid to have tough conversations, they're never going to happen. Managers must have the courage and confidence to communicate with their team.
What to do about it: Everyone needs One on Ones.
How do you build strong lines of communication? By making it a priority.
The best way to prioritize communication is to regularly schedule time for it. For the uninitiated, this is what a one on one is for. It's why Andy Grove said:
If you don't have one on ones currently, you should start. Schedule 30-60 minutes every 1-2 weeks to meet with each person on your team individually.
Make the most of your one on ones
This post can walk you step-by-step through the process of starting them. They can be awkward at first, but as you get used to them, communication will get better and easier.
If you're already having one on ones either sporadically, or they don't feel valuable, work on improving them. These suggested questions for individual contributors, and these for one on ones with managers, can help you focus on the right things.
Those questions will also show you how many different topics you can discuss. This is why you need to have them regularly, and should *never* waste them on status updates.
When you make the most of your one on ones, you create a safe place to regularly have necessary and productive discussions. All the topics that normally don't have time to be discussed now have a comfortable place to do so.
This helps avoid any surprises, and gives you and your team members a place to talk about how to fix problems when their small. This allows issues that could boil over and lead to major problems (and departure) to never reach that point. [Ed note: A comprehensive guide to great one on ones, including a free template for you, can be found here.]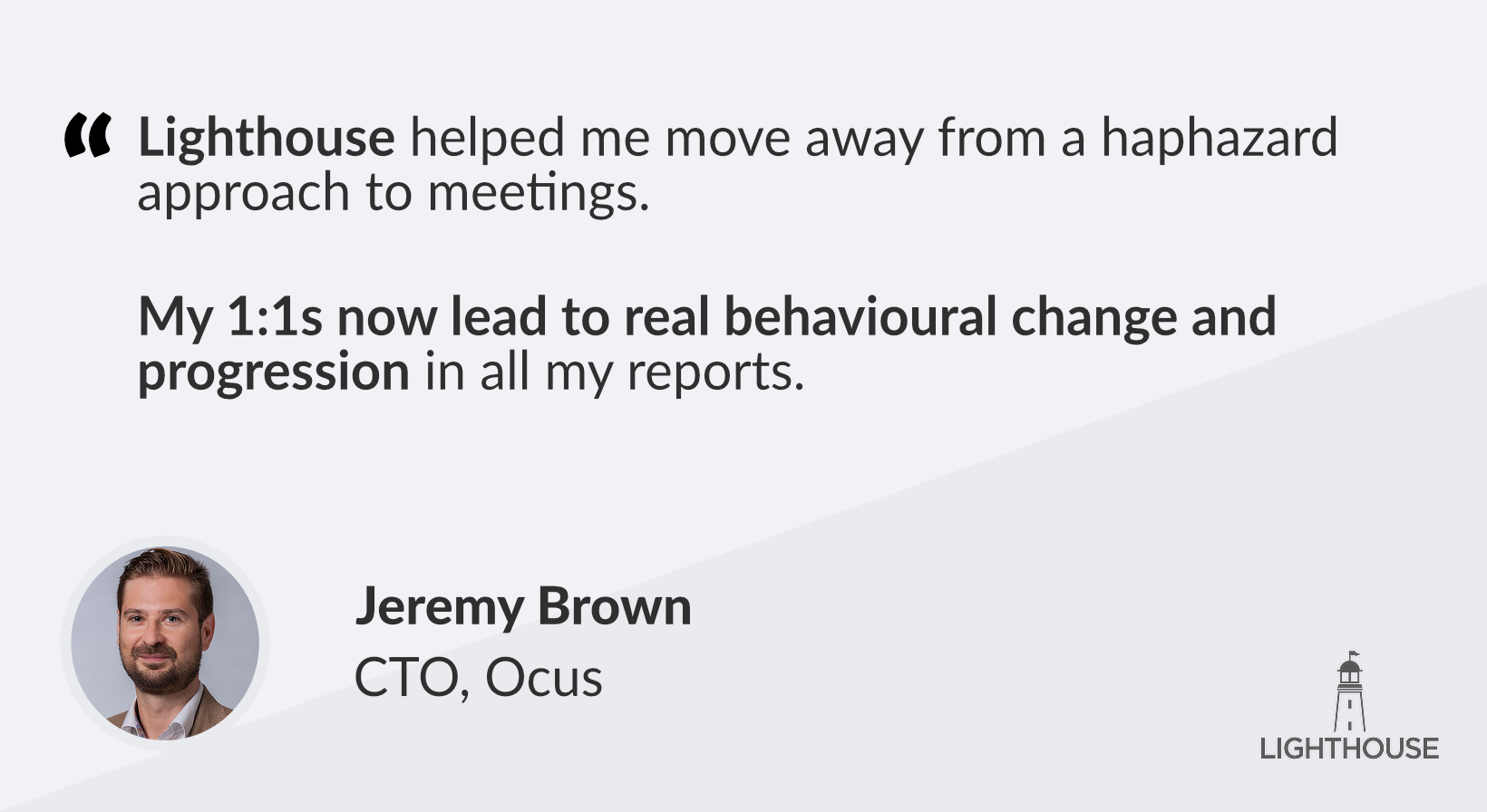 2) Your people want to grow, grow, grow, grow, grow
We look at a lot of the latest workplace research here at Lighthouse, and it's stunning how much evidence there is now showing how badly employees want growth opportunities.
In Mary Meeker's Internet Trends report, it showed that growth through training and development was the top benefit people wanted: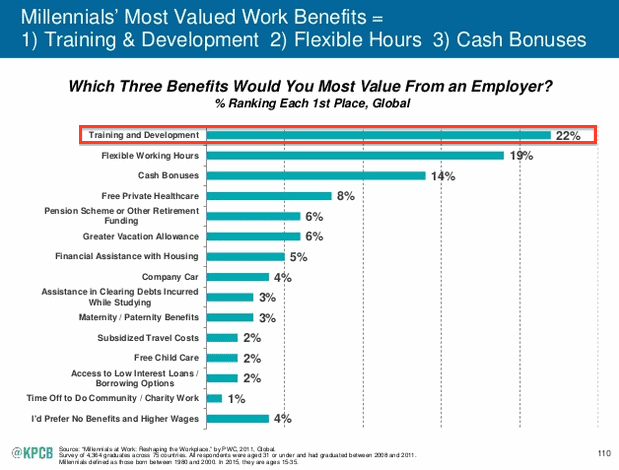 Then, Deloitte's study on Millennials showed that 2 of the top 5 reasons people choose to work for a company are related to opportunities for growth and development: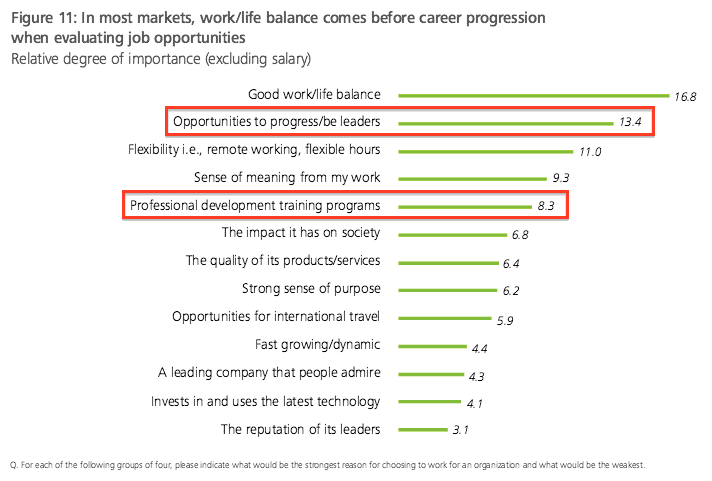 And a PwC study had similar findings, showing that 2 of the top 3 most attractive benefits for employers are related to growth and development: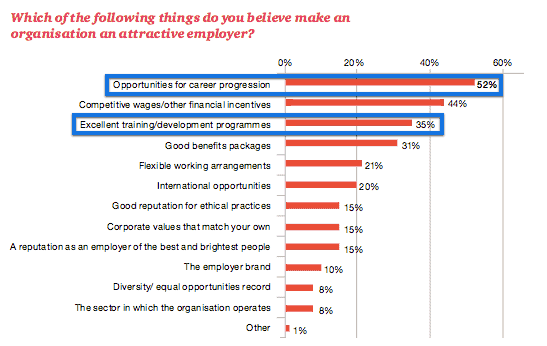 Finally, a CEB survey found that a lack of future career opportunities was the number one reason why people quit their job. It also showed that a stunning 70% of employees are dissatisfied with growth opportunities at their companies. [Ed note: Is it a coincidence that the percent satisfied with growth is about the same as Gallup's number for engaged employees?]
Everywhere we look, the data shows this is what employees want, yet they're not getting it. It's why they leave a job, and what they look for in their next role. If they're not growing at your company, they look for a new job where they can.
What to do about it: Make employee growth part of a manager's job.
The problem with growth and development today is that it almost never happens. The common pattern at most companies is there's a quick discussion at review time, and then it's not discussed again until next review.
That's discouraging and frustrating for your employees. It also creates a lot of uncertainty around promotions (Am I ready? What does it take?)
If a manager isn't going to have growth discussions with their team members, who will?
A manager sees their team member's strengths and weaknesses better than anyone.
A manager can more easily monitor progress.
A manager should already have a structured time to talk about growth (their one on ones).
Without a clear plan, and regular discussions about it, it is too easy to let it slip. Unfortunately, that can prove costly as employees grow bored in current roles and seek new challenges at another company.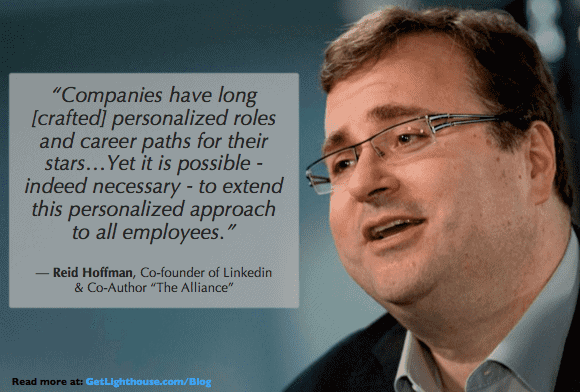 You need a plan.
As Linkedin's cofounder, Reid Hoffman, wrote in The Alliance, it's important for managers to sit down with their team members and lay out a path for growth. One on ones are a perfect time to do this, and ensure there's a time for follow up much sooner than the next review cycle.
Growth discussions and progress won't happen by accident. It must be prioritized by your company, and managers must be measured and rewarded for taking the time to do this.
Keep track of all your team members' growth plans in one place - download our free 1:1 meeting template now.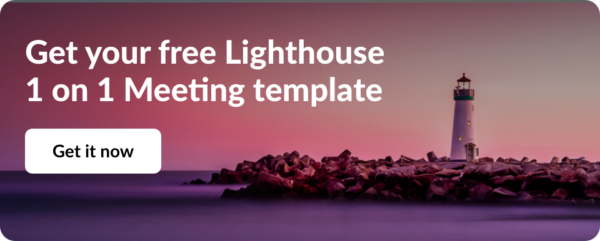 The good news is, it really does pay off. In Deloitte's Millennial study, they found that people with a mentor to help develop them were much more likely to stick around:
"Those intending to stay with their organization for more than five years are twice as likely to have a mentor (68 percent) than not (32 percent)."
A manager is the most obvious mentor for an employee. And even if the manager is not a fit, their help in finding a mentor inside or out of the company can be instrumental in ensuring growth happens. Even better, it will strengthen your employee-manager bond, as they'll appreciate you showing you care enough to help.
If you're looking for starting points for these growth discussions with your team, these links can help you:
3) Managers represent your company's leadership
CultureAmp came out with a report attempting to debunk the reality that people leave managers not companies. What they found actually proved it.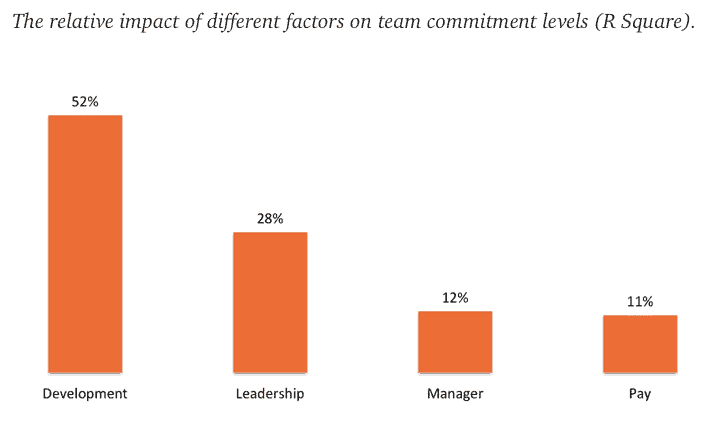 Their key finding was that the top contributors to engagement ("commitment levels") were actually related to company leadership, and career development opportunities.
As we just discussed, the manager plays an essential role in employee development. CultureAmp's analysis of their survey data just didn't directly associate it.
Their other major factor, leadership, is equally tied to the manager.
Leadership and managers are directly linked.
Outside of company all-hands meetings and occasional corporate-wide memos, a manager is an employee's strongest connection to company leadership day in and day out. Their communication (or lack thereof) is what keeps an employee feeling connected to the purpose of their work, and in the loop on what they need to know.
When communication breaks down somewhere in the leadership hierarchy, everyone suffers. This is when people feel out of the loop. It's also when they get frustrated by putting their efforts into work that doesn't matter.
It's the job of every manager to help with the flow of information up and down the organization. When people express frustration with leadership, like in the survey above, it's usually due to a failure in that flow.
Leaders also have a huge impact on the ranks below them. If a leader is disengaged or unhappy, the managers under them are likely to be as well. Gallup calls this the Cascade Effect: