AI has been talked about for years as having the potential to change the world. Yet, outside of Hollywood movies, we haven't seen much we can all use day to day. That's changed with the recent release of new AI tools.
Across industries, different branches of AI are now influencing the way routine tasks are performed. However, while the possibilities of AI seem endless, there are some hard limits to what a computer can learn and the tasks it can perform well.
Soft skills, like empathy and creativity, are complex and hard to develop for most people. That's why most AI tools also struggle with it.
One shining example of AI that's gotten a lot of buzz lately is ChatGPT. It's the latest text-based AI bot, which is capable of giving advice, answering questions, and creating some form of content like cover letters, essays, and even poems for you – almost like a real person would.
In fact, let's allow ChatGPT to introduce itself: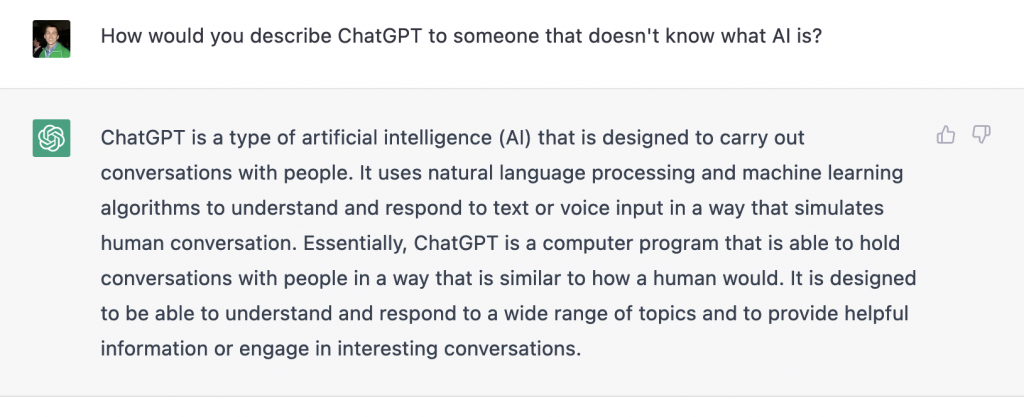 So, with all the excitement surrounding ChatGPT currently, we decided to ask it for some leadership and management advice – and gave it a grade for how good a manager it would be based on those answers.
Table of Contents - ChatGPT management advice on common leadership questions: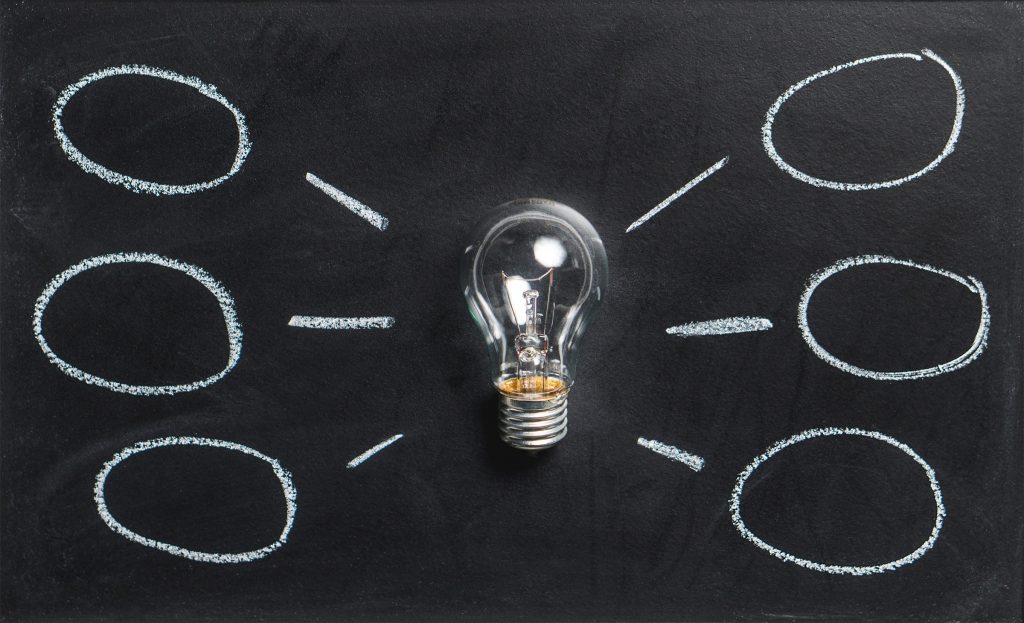 Question 1: What makes a good 1 on 1 with my direct report?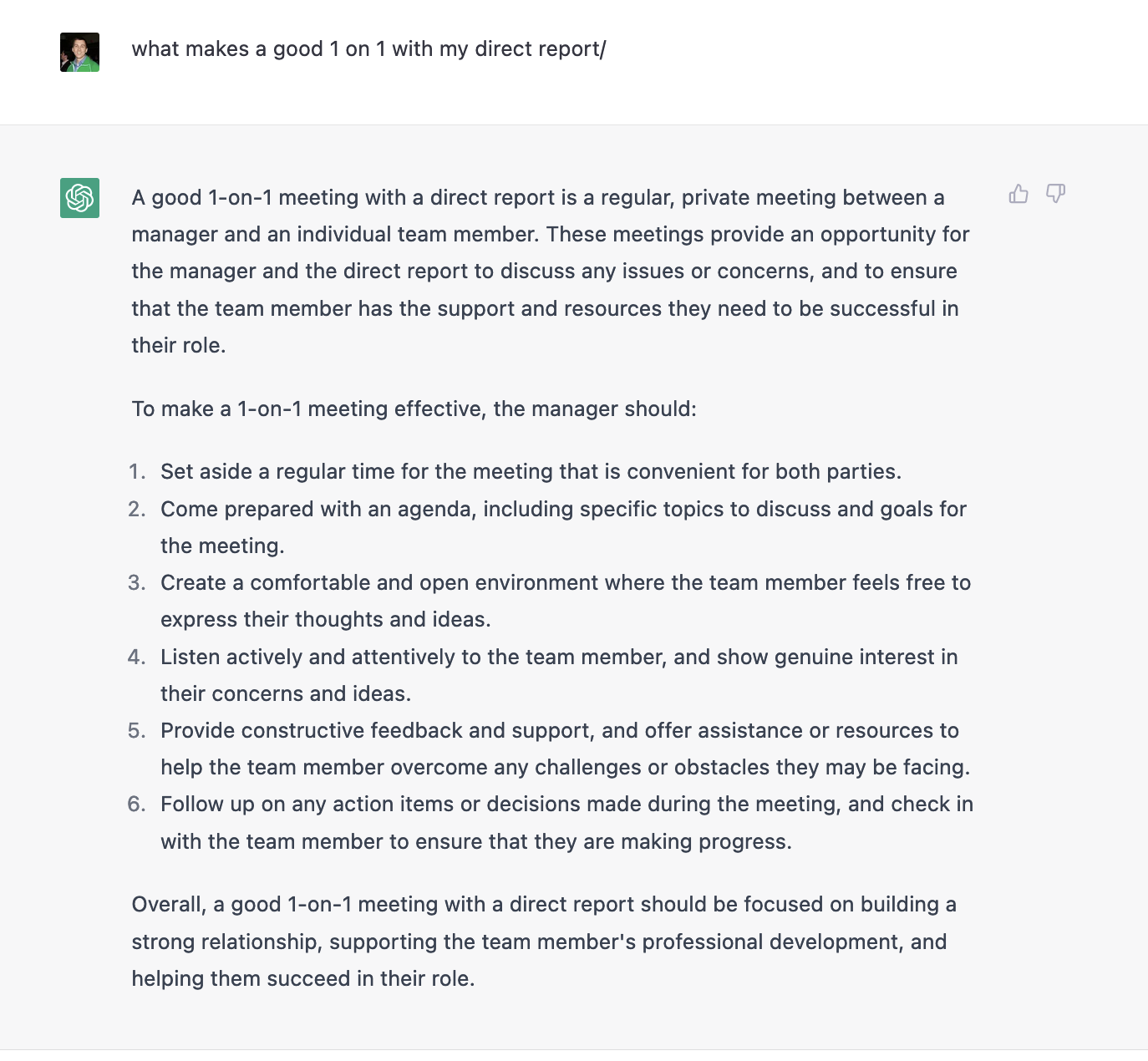 Grade: A-
You knew we'd have to ask this one. And we were pleasantly surprised with the advice ChatGPT gave.
While it doesn't cover *everything* (which would be hard in the length limitations of the typical ChatGPT response), the advice it shares covers excellent fundamentals:
Set aside a time convenient for both you and your direct report to ensure meeting continuity week after week.
Come prepared with an agenda so you make the most of the meeting.
Actively listen to your team member to make sure they feel heard and you both are on the same page.
Follow up on decisions and action items discussed during the meeting, and show that you expect your team member to do so as well.
While their answer doesn't cover everything, this is the kind of advice a good manager would give in a quick conversation to get a new manager started. Then, they'd want to direct them to links like our further reading below to go deeper (which ChatGPT can't, because it's not connected to the internet).
Further reading:
Question 2: How do I give good feedback to my employee to fix a problem?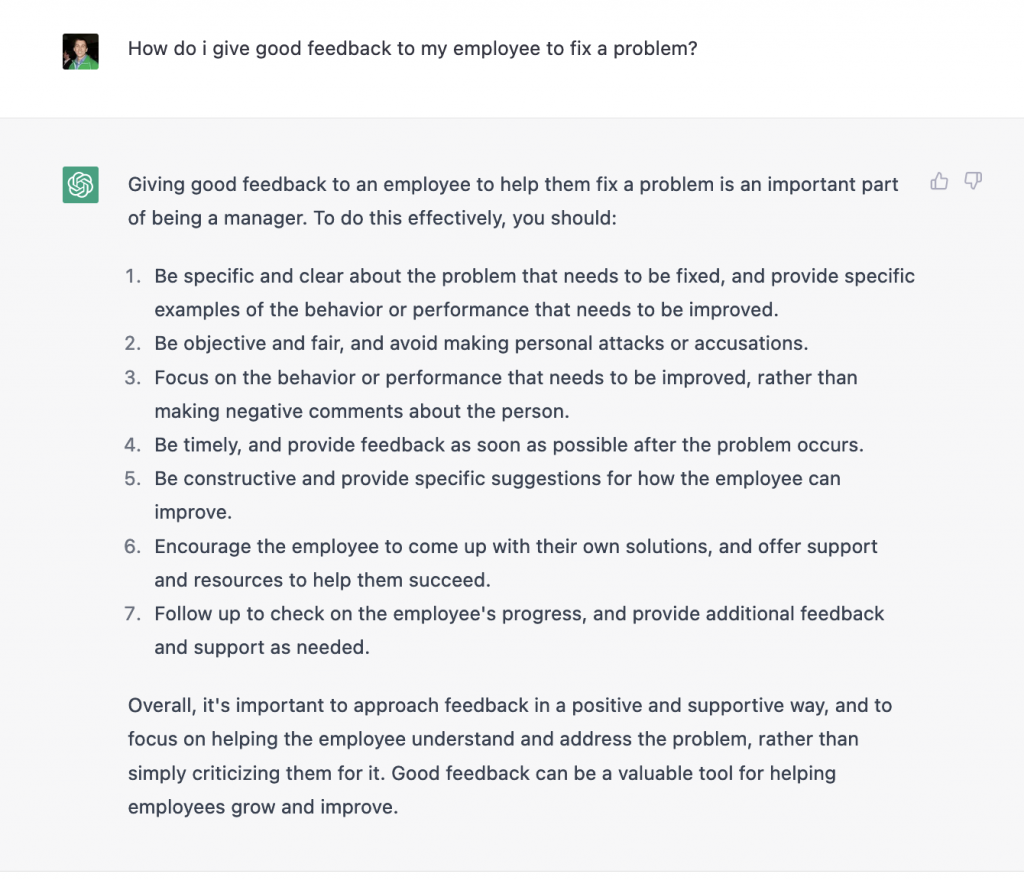 Grade: B-
This is solid advice to take when you need to discuss a specific problem with your team.
The main point we differ on is having the employee come up with their own solution. While they should be part of it, as a manager, you should at least have in mind part of the solution before you meet with them to talk it over.
If you're setting aside time to give your team member feedback about a certain problem, part of the reason you need to do this in the first place is often that the person did not know about the issue.
That means it will be equally important for them to understand the problem first, as it is to understand your expectations on the solution.
This advice is very similar to our Prepare - Listen - Act feedback model, which we go into detail in our blog post, as well as in an episode of the Creating High Performing Teams podcast:
Further reading:
Question 3: What should I do to make my praise effective?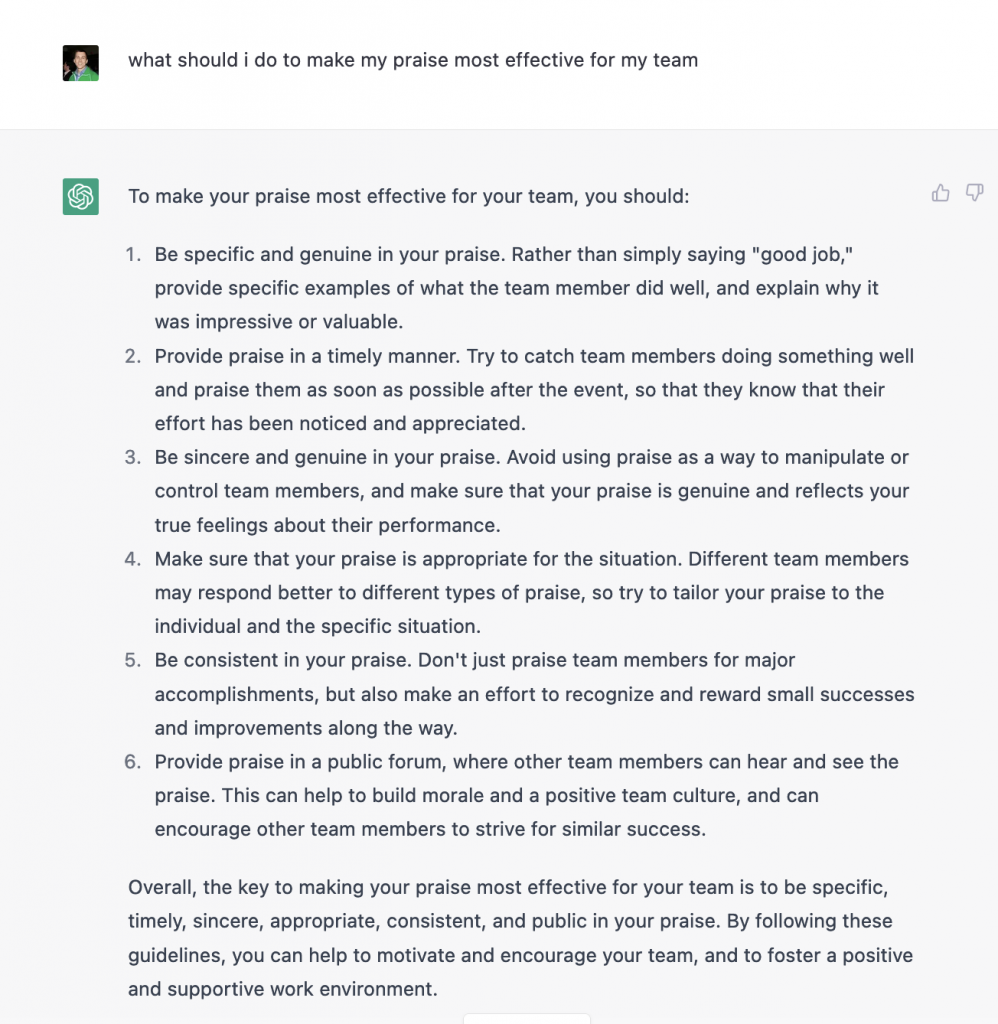 Grade: B+
This was a fantastic answer until point 6.
Not everyone likes public praise, so you should approach it with caution.
Putting someone in the center of attention might make them feel uncomfortable or create friction between them and other team members.
The other pieces of ChatGPT's advice on this topic, however, are quite good:
Praise should be genuine and specific. Instead of simply telling someone they're doing a good job, you should highlight exactly what they're doing well. This shows them you're paying close attention to their work, and tells them what you want to see them do more of.
Praise should be given consistently. Praise should be given every time it is deserved; as Gallup taught us in a study we quote regularly, "those feeling unrecognized are three times more likely to quit in the next year."
Praise should be timely. Don't wait until your performance reviews to let your team member know they're doing a good job. Instead, send them a quick message as soon as you're done reviewing their work, to give them a quick boost of motivation for the day, or go deep on some particularly strong work in your next 1 on 1 with them.
Giving praise is an important part of being a good manager, and we can see ChatGPT recognizes it well.
If you need to work on your praise, check out our guides below to go deeper on exactly how to do it well.
Further reading:
Question 4: What are the best books on leadership and management?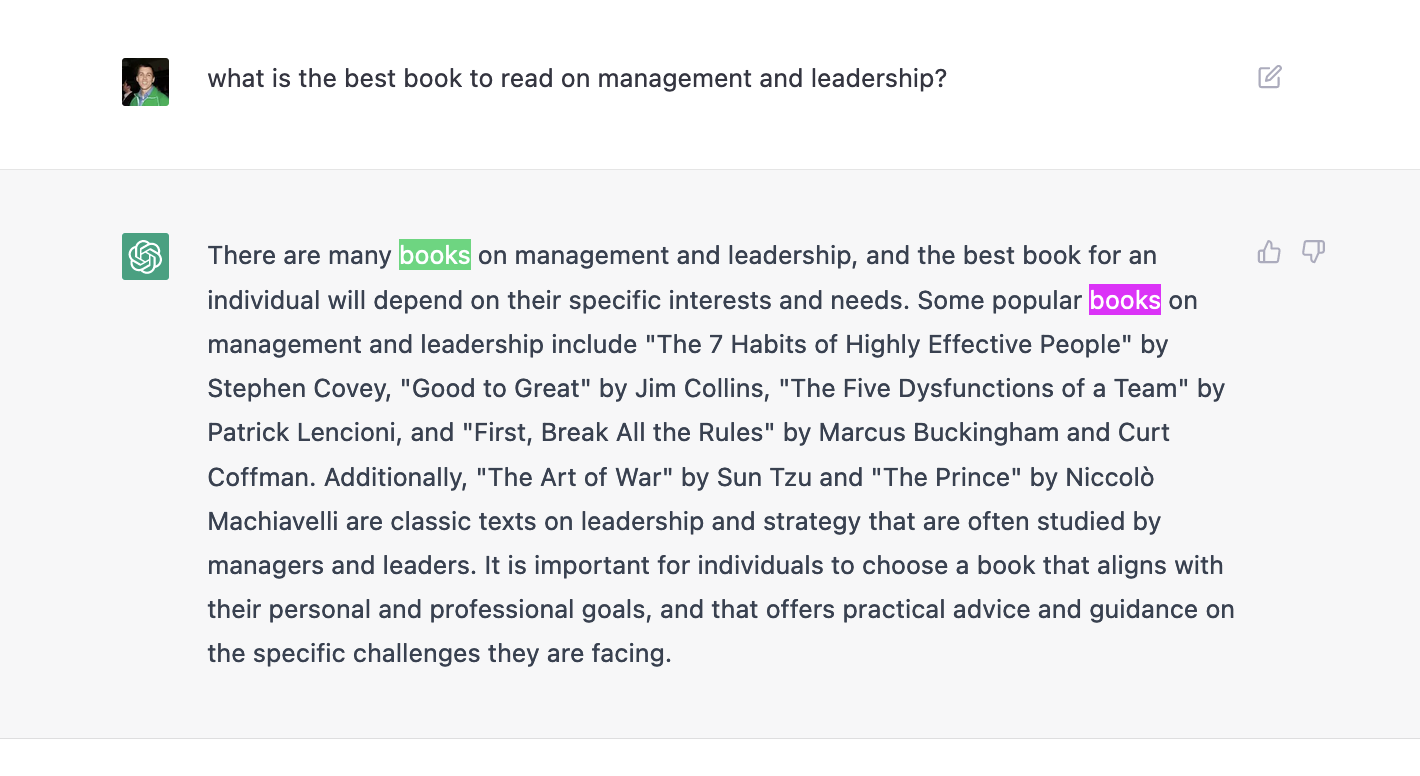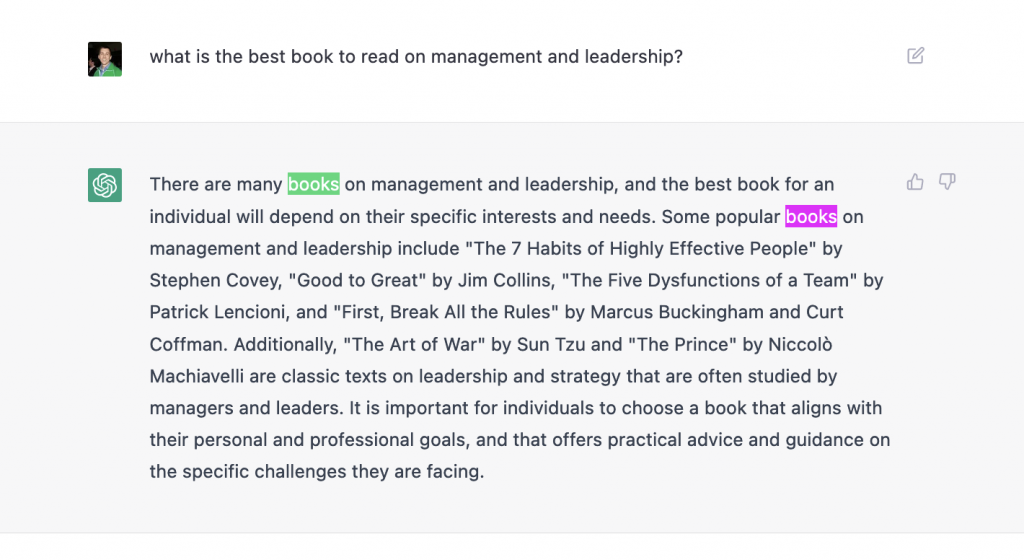 Grade: C-
This is the lowest of the scores we gave to ChatGPT in this exercise.
The software's book recommendations are okay, but definitely not the best in our view; any list of the best books on leadership and management that doesn't include Andy Grove's "High Output Management" nor Dale Carnegie's "How to Win Friends and Influence People" is incomplete.
We're a fan of books like the "7 Habits of Highly Effective People", and the "5 Dysfunctions of a Team" for sure, and we even wrote about some of our favorite takeaways from "First Break all the Rules", but we asked for *THE BEST*.
When you recommend 6 books, and none of them are our 2 favorites that are heads and shoulders above the rest, it's a miss in our book.
For more book recommendations we think can be super valuable for both first-time managers and experienced veteran leaders, check out our curated lists below:
Question 5: What tips for success can you give to a first time manager?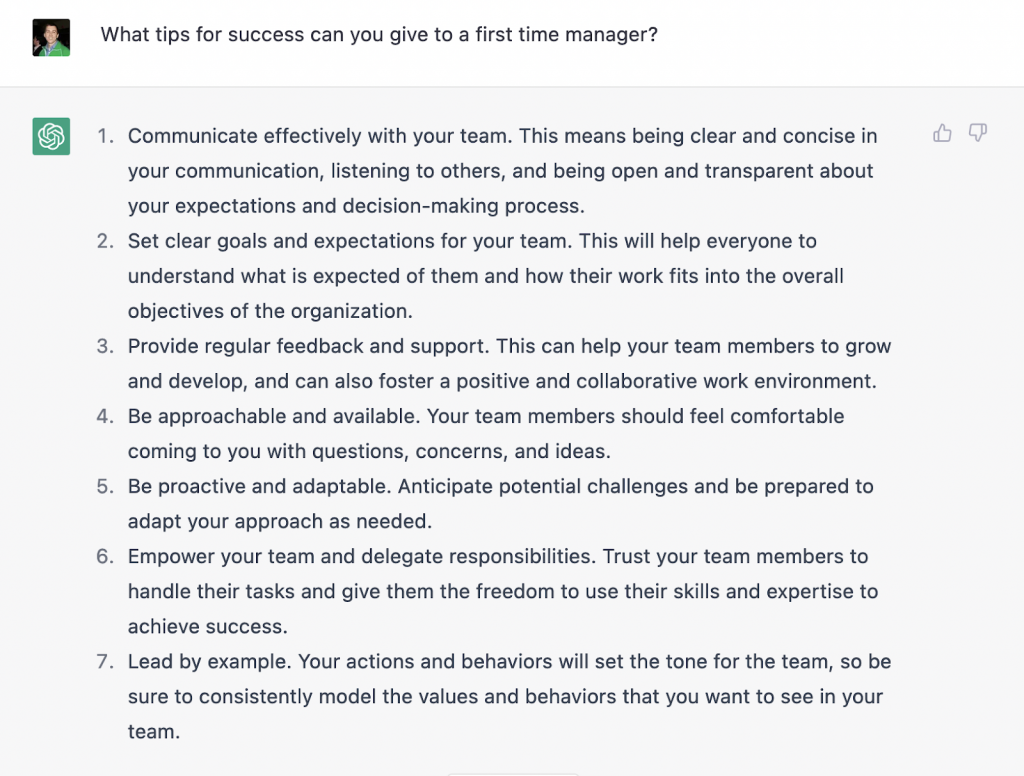 Grade: A-
We wrap up our evaluation with another strong showing from ChatGPT. These 7 bits of advice for a new manager are a good checklist for any manager to follow.
The main challenge with answers like these is that it tells you WHAT to do, but not HOW to do it. Many of these things are easier said than done, so they run the risk of feeling more like warm platitudes than a guide for a manager to follow.
In particular, closing with "Leading by Example" is a great lesson for a new leader, because that can fix a lot of issues and any stumbling that happens out of the gate for them. Fortunately, most team members are okay with their manager making mistakes, as long as they own up to them and improve going forward.
As the longest list of suggestions in this post, you can see there's a lot for new managers to keep in mind, which is why we have really detailed guides that go into detail for each of these 7 points, so you can go deeper on any of those you'd like:
---
Good management is about more than just knowing a list of facts.
While ChatGPT certainly performed well on some of the most common questions about management and leadership, it also showed us the limitations it has.
The devil is in the details, and wisdom comes from understanding nuance. Both of those are missing from ChatGPT.
Unfortunately, leadership is not one size fits all. Learning how to adapt to different personalities, circumstances, and situations is a huge part of being a good manager. Experience and the hard work of learning in the real world will trump a chat bot's brief management advice every time.
However, we can see that ChatGPT has taken a large step forward for AI; it can provide a valuable starting point for any leader. We're excited to see how it continues to develop and hope it gets you thinking about the next steps on your leadership journey.