Were you a natural leader when you started your management career?
Or did you need some manager training, either formally, or self-directed to be effective in your new job?
Very few people know how to become a great manager on their own. Instead, it's through a lot of trial and error, reading, listening and learning that you become great.
Unfortunately, too often, we spend very little time developing the managers that report to us, or our own growth & development.
This is why we're excited to share Lighthouse Pro: A complete system to level up the leaders in your organization.
Fulfilling our mission to level up every manager
The Lighthouse mission has always been to make you a better manager. We have built our software to help you build the essential habits to better lead and motivate your team.
Through that time, we've also experimented with other ways to help you be a better leader, most notably:
Manager Score: To benchmark how you're doing as a manager and show you how to improve in key areas.

Lighthouse Leadership Lessons: A unique manager training program to teach you the key skills to be a better leader in bite-size, highly-actionable lessons.
While these have helped leaders individually, there are drawbacks to an a-la-carte approach. We've learned from you that managers face these challenges when you have to use these individually:
Budget: It can be hard to continually come up with more budget as we sell these to you one at a time.
Timing: Our Lighthouse Lessons programs may not be open exactly when you're ready to start. (Note: Our next one starts this Thursday)
Reimbursement: It's much easier to get reimbursed once instead of submitting separate invoices and making the case over & over.
Awareness: Many of you probably didn't even know we had additional products and services like this available.
Most importantly, while we see how this all fits together, you may not immediately see it.
That's why today, we're here to show you how Lighthouse Pro is the complete approach to manager training that helps you and your fellow managers become great leaders.
Lighthouse Pro: Manager Training that Levels You Up
You can read all the books in the world, and go to all the trainings you want, but if you don't act on what you learn, none of your effort matters.
That's why everything in Lighthouse Pro works together to get you acting on what makes the difference for you and your team, and each piece compliments and supports the others.
The Key to Becoming a Great leader: Learn, Build, and Measure
In the world of product development, we have this concept of "Learn - Build - Measure"; it's a loop that helps you build the right products for your audience, or invalidate an idea.
Lighthouse actually started this way as I learned about the pains and problems of ~40 managers before we built the first version of the product. Since then, we've continued talking to all of you to learn, building new features, and measuring the results.
As it turns out, this same "Learn - Build - Measure" model can be applied to becoming a great manager:
Learn: Learn the skills and approaches you need to know to be a great leader.
Build: Get help building and maintaining the right habits so you can be a consistently great leader and apply what you learned.
Measure: Evaluate how you're doing, identify any weaknesses, and track progress on your improvement.
And so to help you "Learn, Build, and Measure" as a leader, we have Lighthouse Pro to give you a complete system to help you do all those things:
Learn: Take a 12-16 week Lighthouse Lessons program each year to learn the skills you need in areas like coaching your team, giving feedback & praise, and helping you adopt the mindsets of great leaders.
Build: Use our core Lighthouse software to help you have effective, accountable 1 on 1s, regularly help your people grow, and remember the personal details that matter to your team. All in a system that works where you are (Slack, Email, Calendar sync, todo list sync, and mobile/tablet app).
Measure: Twice a year, running our Manager Score, the upward feedback survey, to hear straight from the source how your team thinks you're doing in essential areas that research shows matter most. Track your progress over time by comparing your scores.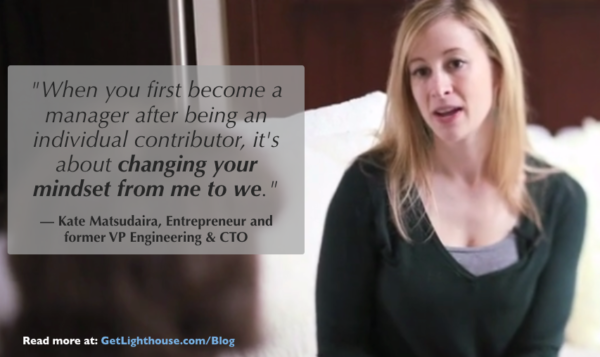 Better together.
Best of all, these programs all compliment each other and work in tandem:
Lighthouse Lessons -> Lighthouse Software: We have links in your lessons to allow you to automatically add a lesson's action to your upcoming 1 on 1s with your team, so you easily remember to act.

Lighthouse Software -> Manager Score: You already have your team in Lighthouse, so with a few clicks we'll send the Manager Score survey to your team.

Manager Score -> Lighthouse Software: Once your score is complete, you can view the results & advice to improve in your same login as our software, and we'll even put a reminder in your next 1 on 1 to talk about your results with your team.
Every aspect of Lighthouse Pro works together to help you be a better leader, with as little effort as possible.
This way, you can focus your efforts on the highest impact work, while we do all the manual, repetitive, and tedious tasks for you.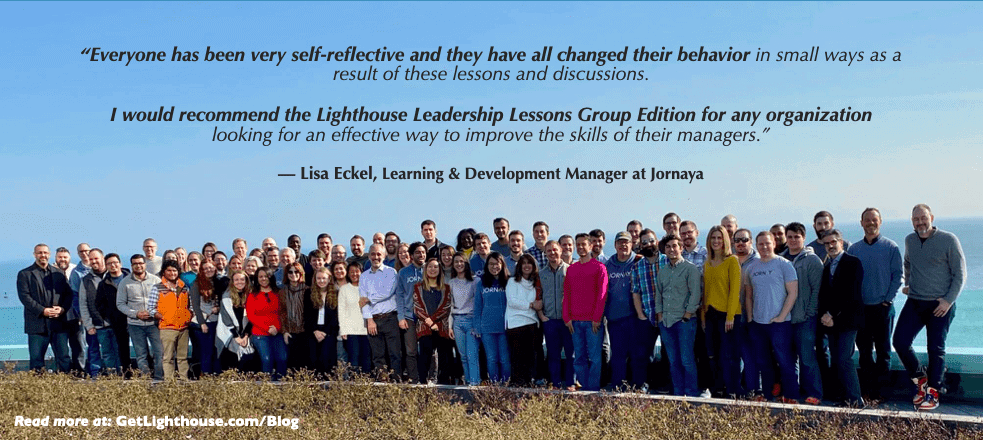 The Best for Last: Build a high performing organization with Lighthouse Pro
Any manager can benefit from Lighthouse Pro to help them level up their skills. In fact, we've already seen it.
A number of early Lighthouse customers have seen these approaches help them rapidly rise as leaders in their organization.
A few examples:
An engineering manager, who has used Lighthouse software, Manager Score, and Lighthouse Lessons programs across 3 different companies is now CTO, leading 70 engineers to be great.


Jason Hall, has risen from Director to VP thanks to Lighthouse. In his own words:

"Since adding Lighthouse to my tools as a leader, I've been Director of Client Services, Director of Product, and now VP of Product. I can easily say: Lighthouse has played a key role in my professional advancement."



A director at a major, publicly traded e-commerce site grew their team from 11 to over 400 in just two years, and has used Lighthouse to help them and their fellow managers be great leaders while under intense pressure to scale.
These leaders all accelerated their careers, got promoted repeatedly, and helped those reporting to them succeed by learning and implementing the concepts that are core to everything we do at Lighthouse.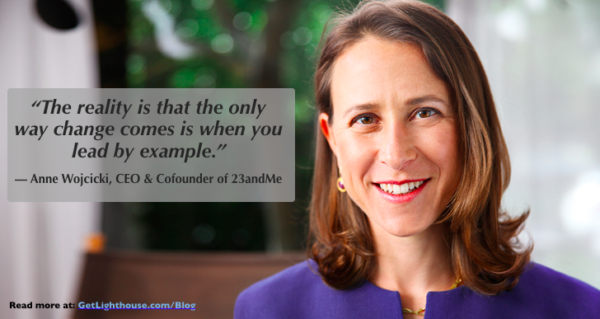 Can you rise to the challenge?
You can become a great leader, and quickly you'll be rewarded with a larger team. Not long after that you'll find yourself leading other managers, and needing to provide the manager training that will show them how to be great managers, too.
You'll also then need to know if all your managers are performing at a high level.
Because mistakes at the management level are very expensive; a poor leader can poison a whole team and kill a whole project.
Gallup calls this the Cascade Effect: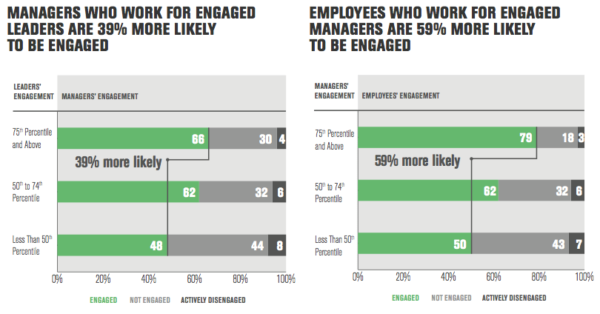 But with all the new demands, meetings, and pressure, you don't have time to keep an eye on everyone. It's hard to find time to invest in everyone as well.
And that's where we come in to help you scale your leadership. That way you go from us helping you become a great manager to becoming a great leader of a department.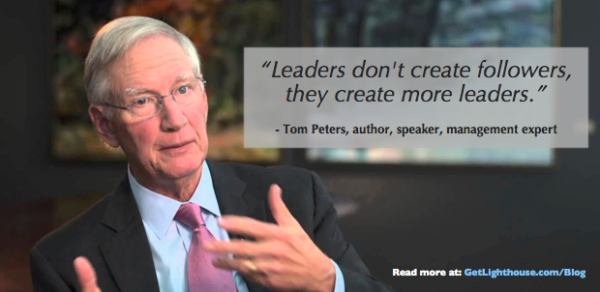 Make all of Your Managers Lighthouse Pros in 3 Steps
By getting all your managers Lighthouse Pro, everyone gets the same training and skill building you did, so they can level up and learn just like you.
Best of all, we have a whole set of features for you to also "Learn, Build, and Measure" your way to being an effective Senior Leader:
1) Learn:
While you and your team learn key management skills together with Lighthouse Lessons, we'll send you a discussion agenda so you can meet with your team to talk about the lessons, even without much time to prepare.

This builds camaraderie, and gets you sharing stories and lessons learned. It's powerful manager training as a leader told us:
"This program is full of valuable and actionable lessons on how to be a better leader and manager.

It also offered our managers, across departments and teams, the opportunity to build camaraderie and grow together as a peer group."
- Nathan Broslawsky, former VP Engineering, SmugMug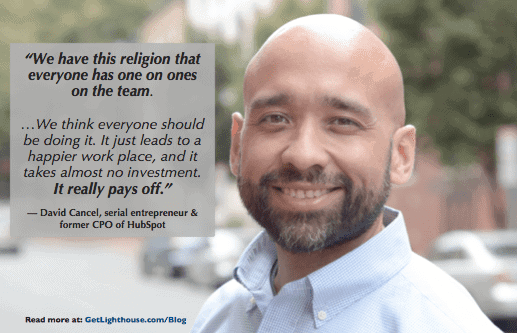 2) Build:
Get all your managers Lighthouse accounts so you all build the right habits to manage your teams.

You'll also then be able to have Skip Level 1 on 1s in Lighthouse to:
Help you stay connected to people deep in your organization through a check in every 3-6 months with each person (or reminders to check in again).
Automatically route insights and talking points from your skip levels to the next 1 on 1s with their manager so you can easily coach and improve them.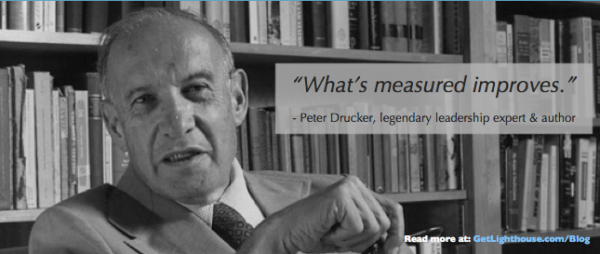 3) Measure:
There are multiple ways for you to then measure not only how you're doing, but efficiently identify which of your managers are doing great, and who needs more help & coaching:
Focus on your weak links: With Lighthouse analytics, you can quickly see which of your managers are having consistent 1 on 1s and growing their people, and who you need to help or a nudge.


Identify patterns: When we run Manager Scores for all your managers, we'll provide you with a summary report so you know how all your managers scored. Focus your efforts on low scorers and areas many of your managers are weak.
In both cases, the key is early detection. It's better to help someone course correct now, than wait until you have employees leaving in waves and the manager has to be demoted or let go.
Ready to become a Lighthouse Pro?
As you can see, we're here to help you every step of the way. We give you all the manager training you and your team need, and help you take the most effective actions possible with the least amount of time and effort on your part.
This is how you become a multiplier as a leader and become the kind of executive that gets recognized for driving results.
If you're interested in Lighthouse Pro for you, or your department, contact us at [email protected] or schedule a call now here to talk about your unique challenges and walk you through how we can help you.