What's your company culture like?
Are your employees happy? Are they engaged? Do they feel appreciated? Or is your team built on a weak, crumbling foundation, barely holding together a team with low morale?
It's common for founders to, intentionally or not, wreck their own company culture. The hard part is they often don't even realize there's a problem until it's too late.
In his book, Start With Why, Simon Sinek draws an important distinction many founders never fully understand:
"Your company doesn't have a culture. It is a culture."
Culture is the offspring of the actions and behaviors of the leaders of that group. This means that it all starts with you, the founder.
Unfortunately, it's not something you can install or implement. You already have a company culture, whether you like what that culture looks like now or not.
The good news is: you can change it. And if you want a great company culture, there's only one place to look.
Your company culture and values end up being an exact mirror of you, the founder(s).

— Mitchell Harper (@mitchellharper) June 11, 2017
It starts with you.
As founder, it's your job to lead by example. Molly Graham, former Culture Manager for Facebook, echoed this in an interview with First Round:
"Companies tend to reflect everything about them — their personality, strengths, weaknesses. So when you start defining culture in an intentional way, first look at yourselves.[…]

If a founder is competitive, the company will be more aggressive and competitive. If they are analytical and data-driven, the company will tend to make metrics-based decisions."
Many founders don't realize that their culture is largely the result of their own actions. Your personal strengths will be made into strengths of the company and so will your weaknesses.
However, in his book, The Alliance, LinkedIn co-founder Reid Hoffman and co-authors Ben Casnocha and Chris Yeh suggest shifting this view to one where the benefit is a mutual alliance:
"Every employee relationship should be bidirectional in nature; it should be clear how the employee benefits and how the employer benefits."
Instead of just seeing each employee as someone who does work for the company in exchange for a salary, see the relationship as an alliance where:
You're providing them with the opportunity to grow, learn, and improve, and
They're providing you with the fruits of that effort
Implement "Tours of Duty"
Hoffman, Casnocha and Yeh suggest what they call a "Tour of Duty." To implement a tour, you (or their manager) and your team member agree on a length of time along with goals to accomplish during that period of time in tandem with their core responsibilities.
With this kind of mutual agreement in place, your people not only have a clear set of goals and expectations in place to follow but:
A way to track their progress
Greater commitment from them as an employee, and
Motivation to come to work to make progress toward those goals because they align with what they want.
Hoffman also says the end of a tour often results in those employees wanting to establish a new tour, as they become eager to set new goals and work to accomplish them; the end of one tour is often the beginning of another with your company.
Best of all, the excitement to come into work coming from career alignment with them is infectious. It not only keeps them engaged in the work they're doing, but it helps establish a culture where growth is not only valued, but clearly defined.
Whether you test out implementing tours or simply work on establishing your own growth plans with your employees, invest in your people by helping them grow. When you do, you'll be building a culture that's stronger and healthier for it.
Further reading on implementing employee growth plans: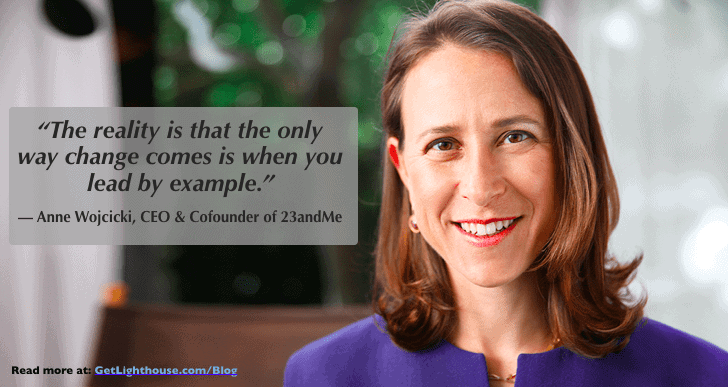 Mistake #3: Setting a poor example
It's a sometimes frustrating fact of human behavior that those who follow us learn from our actions and behavior more than our words. The same is true for your team.
As a founder, you need to lead by example. Your employees will emulate your behavior, both good and bad, whether you like it or not.
Built with all the best practices we write about and automation to make it easier to do these things, it will help you build the culture you always wanted. Start your free trial here.