"An ounce of prevention is worth a pound of cure."
Zac Cramer is the CEO of IT Assurance, a Portland, Oregon based IT consultancy.
His managers had a system for managing their teams performance and growth, but he lacked a way to measure the ongoing effectiveness of his managers.
The Problem: Measuring the effectiveness of their managers.
As Zac described it,
"A good manager can positively answer two questions:

1) Is your team meeting their targets?

2) Are your people growing and happy?"
While Zac has developed effective ways to set and measure numerical goals for his employees and managers (question #1), they didn't have an effective way to tell whether his people were satisfied with their long term prospects at his company, and happy with their jobs.
How do you catch manager problems *before* you lose key employees?
How do you catch problems with your managers early? How do you fix them before you get notice from one (or more) of your key employees?
Zac knows people leave managers, not companies, and the problems from managers are hard to catch:
"By the time people are unhappy and leaving, it's too late. I can't afford to lose good people."
So how do you know how well your managers are managing? How do you identify issues before it costs you tens of thousands of dollars to replace an employee?
The Solution: Benchmarking IT Assurance managers
Zac needed to understand how his employees felt about their managers, and track changes and progress throughout the year.
The answer is Lighthouse's Manager Score.
Using just a list of managers and their teams' emails, Lighthouse ran a 9-Question survey for each team to see how they felt their manager is doing. These questions help identify if managers have the right habits to drive engagement and high performance in their teams.
The questions are built on the extensive research and real world experience by the Lighthouse team; they've been helping managers better lead their teams and writing on this subject here on the Lighthouse blog since 2014.
Within one week, Zac and his managers got their results. Here's a sample score like the one Zac and his managers received: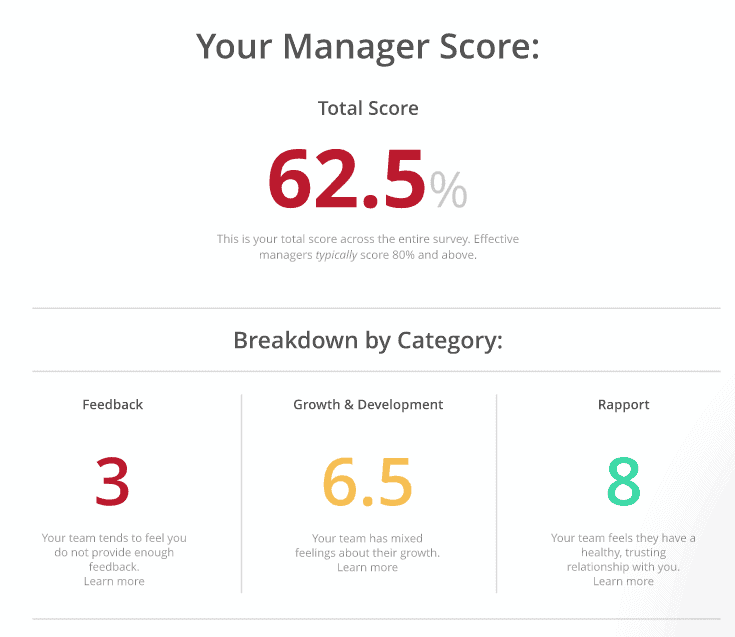 Each manager can see where they stand in key areas for engagement and high performance with their teams, and have actionable advice on how to improve in their areas of weakness.
As a senior leader, Zac also saw every report so he can better coach and improve his managers.
Creating continuous manager improvement
Now, Zac and his managers can start improving today, knowing their areas to work on and having actionable advice on how to do so. They no longer have to wait for a more formal and comprehensive performance review, which can often be overshadowed by compensation discussions and other priorities.
They also have a baseline they can compare to when they re-run the Lighthouse Manager Score™ next quarter; they can track their progress over time as both individual managers, and across their organization.
Zac now has peace of mind knowing his teams are being managed well, and can fix problems early. He told us:
"As a leader, it's important for me to know how our teams are performing. While we can measure actions and tasks completed, we lacked a way to understand how managers are doing with their teams.

Since people quit managers, not companies, I need to know about a costly manager problem *before* people start leaving.

The Lighthouse Manager Score™ helped us quickly and easily understand how my employees felt about their managers. It gave me areas of strength to applaud and points of weakness to focus on improvement.

I recommend it to any leader that wants to really know how their managers are doing, and help them improve."
Ready to get your Lighthouse Manager Score™?
Sign up now to get one for your team here or email us at [email protected] if you're interested in running it for your department or organization.