Sam Walton is one of the greatest retailers and entrepreneurs in the history of America. Starting with a few stores in small towns in Arkansas, he turned his tenacity for serving customers, and delivering deep discounts, into one of the largest businesses in the world.
Shortly before his passing in 1992, he wrote his autobiography, Made in America, to share a first hand account of how he started and built Wal-Mart, and what he thought were their keys to success.  Today we look at some of our favorite Sam Walton quotes from Made in America that you can apply in your leadership roles today and in the future.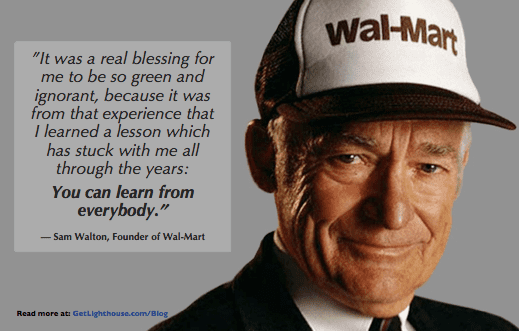 Regarding Wal-Mart:
Depending on where you are reading this from, you may love Wal-Mart, or have a strong dislike of them. If you love them, skip right ahead into these lessons and you'll enjoy peeling back the curtain on a beloved company.
For those of you that don't feel so glowing about Wal-Mart, realize that this was written over 20 years ago. Part of the purpose of the book, according to the opening chapter, was to be a reminder to his family why he started the business, and the values that were important to him and Wal-Mart's success.
Unfortunately, many of those values have been lost. While you may not love the Wal-Mart of today, there are many great lessons in this book that you can learn and apply, especially if you follow his philosophy that, "you can learn from everybody." 
Table of Contents:
5 Great Sam Walton Quotes on Leadership from Made in America
One of my favorite parts of Walton's book is how down to earth it is. The book reads more like a conversation with someone's grandfather on a porch than an encyclopedia of knowledge from a great leader, but in fact, Made in America is both.
There were a lot of great lessons and quotes in the book, especially since many were written so simply and approachable. Below are 5 of my favorite Sam Walton quotes.
1) Look for actions you can take today.

"I've always had a strong bias towards action."
From the opening of his first store, Sam Walton was always looking to make progress and improve. He was constantly trying new things and experimenting.
Many of those experiments led to big sales numbers, and some were bold enough to get the whole town talking about it.

The birth of the Moon Pie eating contest.
One great example Walton recalled was when one of his store assistant managers accidentally ordered 5 times as many Moon Pies as he intended. As a perishable food, there was no time to waste, or they'd have to be thrown away and considered a big financial loss.
Instead, John Love, the assistant manager in question, took immediate action and organized the first ever Moon Pie eating contest. Not only did it help ensure none of the Moon Pies went to waste (and many were sold), it's become an annual tradition covered by the press and drawing many spectators.
What could have been a big loss turned into a big win because they got creative and had a bias towards action.
Take action to fix problems.
"You can make positives out of most any negative if you work at it hard enough. I've always thought of problems as challenges."

A big part of the Wal-Mart culture is their Saturday morning managers meetings. In these meetings they go over sales numbers, what's working, what's not, and where people need help.
These meetings help bring the full power, experience, and creativity of the leadership staff to every challenge they face; they work together to solve problems and share ideas.
It's also a great, constrained time to make sure problems don't get swept under the rug, or grow too big. Everyone knows what's going to be reported at the meetings, so there's no chance to hide and no reason to. Everyone at one time or another has needed a hand, and been helped.
2) Learn from everyone.

"Most everything I've done, I've copied from somebody else"
Isn't it interesting that the world's largest retailer, and the most powerful electronics company, both have the same philosophy? We all know Jobs for this Picasso quote that he loves so much, but until I read Made in America, I had no idea how far Walton took the same idea.

Great artists steal.
One of Sam Walton's favorite things to do from the moment he entered the retailing business was to walk over to the stores of his competitors and learn everything he could. He was fanatical about it.
He had no shame walking into a store with a tape recorder or notepad, and even asking the store's employees questions about how they operate. His children even recalled how he would plan family vacations so he could check out stores around the country he heard were doing well.
Focus on what people are doing right.
Walton had a very simple approach anyone can use:
"Look for the good. If you get one good idea, that's one more than you went into the store with, and we must try to incorporate it into our company. We're really not concerned with what they're doing wrong; we're concerned with what they're doing right and everyone is doing something right."

One big idea that Walton "stole" was the warehouse discounting business. He had heard they were doing well, and went to meet one of the pioneers in San Diego.
Shortly after that meeting, they were taking action and opening a test store in Oklahoma City. It ended up working so well that within 10 years, Sam's Club was a $10 billion a year business (in 1992)!
Walton kept an open mind and was always looking for something he should try at his stores. While no idea was a silver bullet, and some failed, the sum of these experiments were a major part of Wal-Mart's ongoing success and growth.
3) Give people ownership and autonomy.
"My role has been to pick good people, and give them the maximum authority and responsibility."
Many of the best ideas are accidents. For Wal-Mart, as they opened new stores, money was often tight. In addition to constantly seeking out bank loans and lines of credits to start stores, Walton turned to the managers who would run new stores by giving them an opportunity to invest in them.
Not only did this share the wealth created with opening the store, it had a powerful side affect:
"Most of them owned a piece of their stores, so they were likely to be concerned as I was...each of them had lots of freedom to try all kinds of crazy things themselves."

We've already seen how this autonomy allowed for the massively successful Moon Pie eating contest. Over and over, experimental promotions helped drive big sales and draw in customers. Over time, this culture even then worked its way down to associates.
Using ownership to conquer shrinkage.
One of the biggest problems facing any retail store is stolen goods (a.k.a.- shrinkage). It can be hard to combat, especially when sometimes the theft is your own staff either directly, or looking the other way.
Walton decided it was important to get Wal-Mart shrinkage under control, so he involved his associates in the process. Any time the shrinkage number was below Wal-Mart's goal for that store for the month, every associate would get a bonus in their paycheck. Since this could be as much as $200, it was an amount associates would notice.
When Walton wrote Made in America, he proudly reported that this program had led to their shrinkage being half the average for their industry.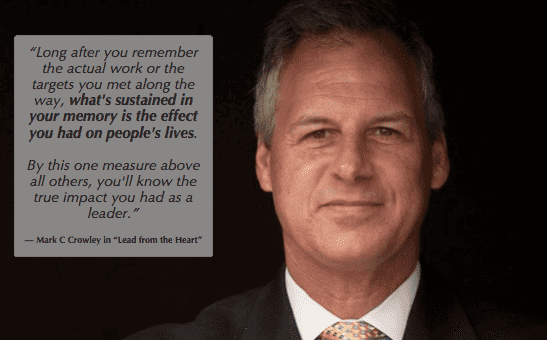 4) Take care of your people.
"If you want the people in the stores to take care of the customers, you have to make sure you're taking care of the people in the stores."
Today, the biggest controversies about Wal-Mart usually revolve around their associates and front line staff. Reading Sam Walton's side of the story shows both how much things have changed, and how much he loved them.
A few great things Walton did for his associates and staff:
He gave stock options to associates: These options made many low wage staff members tens or even hundreds of thousands of dollars. As of his writing in 1992, 80% of associates owned stock worth over $1.8 billion.
Welcoming to his home: Each year, every store elects an associate to come to Bentonville for their annual meeting. While there, Walton would invite all of them to his home for a giant dinner.
Bringing the donuts: Walton would regularly get up before dawn to bring coffee and donuts to the distribution centers to meet with and thank the Wal-Mart truckers. He learned valuable insights from them on ways to improve, and they were often shocked to see an executive there.
Story after story, both recounted by Walton, and by staff who shared anecdotes in the book, showed how far Walton went to care for his people. He saw how it helped the bottom line and led to better communication throughout the organization.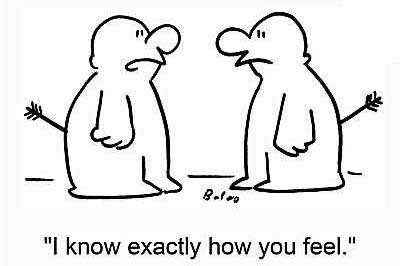 Walk in their shoes.
Another common problem in retailing is the relationship between store managers and buyers. Buyers will often choose goods that store managers then have to try to sell with little input or communication. There's little store managers can do if something isn't selling.
Walton saw the flaw in this process and created some clear rules that got managers and buyers working on the same team:
Value a manager's time: Buyers were required to return calls from store managers they buy for before sundown.
Ask for manager input: Managers were invited to meetings with buyers to discuss what's selling and not, and to discuss ideas for selling more.
Walk in their shoes: Once a quarter, buyers were required to work as a store manager at a store they were a buyer for to see what it was like.
These rules to create empathy in buyers proved priceless. The increased communication helped Wal-Mart stay nimble as they grew; it became easier to find something selling well at one store and figure out what other stores to try the same thing.
In one example, they discovered that beach towels were a great item to feature at stores within a certain distance of a beach. They quickly were able to place orders so all the stores around the country could capitalize before summer ended.
By putting a focus on empathy and showing care for his people, Sam Walton effectively navigated decades of hyper growth that proved doubters on Wall Street wrong many times.
5) Praise is an essential tool for leaders.

"Everybody likes praise, and we look for every chance we can to heap it on somebody."
Sam Walton knew the power of praise, much like our favorite first lady of praise, Mary Kay Ash. Walton went to great lengths to find opportunities to recognize people and create ways to make a habit.
One of the biggest opportunities for praise were their Saturday morning meetings. While the managers all gathered to discuss results, problems, and opportunities, it was also a time for praise:
Top performing experiments: If a manager ran an experiment that worked well, Walton was sure to call it out and recognize them in front of their peers.
Recognize Associates: If an associate did something worthy of recognition, they were invited to the Saturday meeting and then also publicly recognized.
You can tell Walton really took this belief to heart, as he looked for every opportunity in his book to praise and recognize staff. For example he took the time to write this about the truckers he loved to visit at 4am:
"I'll just say it: we have the best damned truck drivers in America, and their loyalty and their can-do attitude have made a huge difference to this company."
Imagine how you would feel as a Wal-Mart trucker reading the CEO wrote that about you in his autobiography. Has to feel pretty good. And it cost Walton nothing.
Celebrate and have fun!
All work and no play makes work very dull. Walton knew he had to make things fun, too.
He showed this in the crazy promotions he and the store managers often tried. These not only were fun for the staff, they brought out the community. It built a bond with the cities and towns they were in that wouldn't have happened as a regular old, boring brick-and-mortar store. It built loyalty that helped them survive attacks from other discounters and major players like KMart.
Walton also made sure they took the time to celebrate. No moment better represents that than the video above.
In 1983, they had a record 8% growth, and so Walton had to keep his promise to do the hula dance on Wall Street to celebrate. As you can see, Walton had a great sense of humor about it. Even today, Wal-Mart is still proud of it, as they posted video of it on Youtube 30 years later.
---
Play the long game.
"We couldn't care less about what is forecast or what the market says we ought to do."
Throughout the book, Walton talks about how they ignored doubters, and Wall Street critics. They also didn't let short term problems or temptations derail them from their real priorities: the customer and their people.
There are many lessons to be learned from someone like Walton, who built such a massively successful company. These are a few of our favorite Sam Walton quotes and lessons. What are yours?