Once your team or your company grows to have even a little complexity, you'll notice problems begin to emerge. Often, they start out innocent. A small disagreement here, some unnecessary inefficiency there.
Over time, every problem either becomes bigger, or is addressed. Ignoring it only puts off dealing with it until later, when it's more costly.
Sometimes, putting it off makes sense; you only have so many hours in the day, and you will never get anything done if you're chasing down every little issue.
However, left unchecked, many problems can spiral out of control and become costly management debt:
A Team Divided: A few conflicts in team meetings can become team members that hate each other and a team that takes sides.
Painful Inefficiency: An inconvenience in your process when you're 2 people, can become a nightmare bottleneck when you have 8 people.
Costly Incompetence: A poor hire will do worse and worse things until they absolutely must be fired, but at great cost to your team or customers.
Losing a Star: A once star team member that starts feeling bored will slowly go from motivated, to disengaged, to leaving for another job with new challenges.
Burnout: An overworked employee will at first push through and be okay, but will eventually physically succumb to burnout.
If you've ever experienced any of those issues, you know there were warning signs along the way that were missed or ignored. Waiting proved quite expensive.
The Management Debt Mindset
Every decision you make has consequences. Taking shortcuts, or not looking for unintended consequences of even good decisions can be costly. You have to be vigilant.
The Management Debt mindset is about recognizing that these occur, and as a leader you must embrace the never ending buildup of them.
Problems do not always come to you.
Making matters worse, these problems are not always readily apparent to you. Andy Grove describes this as a black box in High Output Management; you can't see everything everyone on your team experiences.
Knowing this, you need to have a mindset that you're always looking for management debt and doing something about it; you have to address the issues that matter before they become big problems that put you in fire fighting, reactive management mode.
Work hard to uncover them.
Pixar Studios has produced a ridiculous run of hit movies over the past two decades. Eleven of sixteen films have had a cumulative critic score of over 90% on Rotten Tomatoes and they've grossed over $10 billion combined worldwide. This is no accident.
Ed Catmull is the cofounder and President of Pixar. After making his lifelong dream of a feature-length computer animated film a reality, he was looking for his next challenge . Making Pixar a great place to work became that goal.
In 2014, Catmull wrote Creativity, Inc to share his lessons in building and maintaining Pixar's culture throughout their years of success (and many challenges the world didn't know about). This book is a must read for any leader that cares about culture.
In the book, Catmull describes their approach that perfectly captures the Management Debt mindset: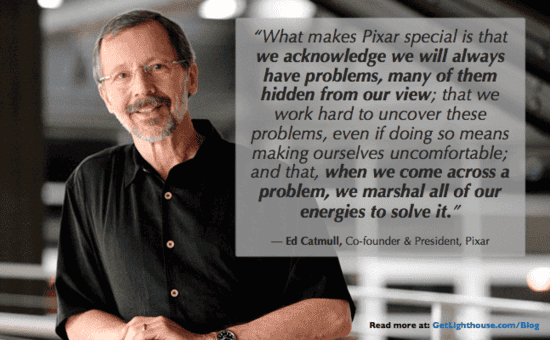 Building a great team and having a strong, positive culture requires effort like Catmull brought to Pixar. Embracing you will always have management debt is an important step in creating a great work environment.
Do you have the Management Debt mindset? How do you make sure you find and fix problems?
—
Further Reading: Ben Horowitz, investor and former CEO, has a fantastic post on management debt here.