"What I have learned is that people become motivated when you guide them to the source of their own power and make heroes out of employees who personify what you want to see in the organization."

- Anita Roddick, co-founder of the Body Shop
How often do you think about what motivates your people to do their best? Do you have a strategy for encouraging them when times are tough?
No matter what industry you're in, your motivational skills will underpin everything you do. It's a soft skill that helps you build long-lasting relationships and get people through difficult times. It's also a skill that can affect a number of different areas, including:
Skillful motivators are able to recognize and take advantage of the unique triggers that unlock their people's potential.
Becoming an inspiring leader: Where do I start?
Unfortunately, being able to motivate someone is more complicated than it seems. It goes way beyond an occasional pep talk or motivational speech. To be effective at it, you need to understand what drives your people and consistently use it to keep them engaged and doing their best work.
If this sounds tricky, that's because it is.
What are the best ways to motivate your team other than money?
How can you develop a plan B and keep team morale from sinking when you hit a rough patch?
How can you ensure you're staying motivated when it really matters?
To help you answer these questions, we've curated a list of five courses on motivation you can take to grow as a leader now.
The list includes the newest edition of our Lighthouse Lessons. We created this email-based, 10-week program to encourage you to take action and improve as a leader in just 15 minutes per lesson, and also found some other great programs that could help you depending on your learning style and interests.

How to Motivate Your Team: 5 Courses That Will Make You a Better Motivator
Today's post will explain how you can use Lighthouse Lessons and other resources to work on becoming a better motivator. We'll also be reviewing the pros and cons for every choice, so you can find the one that fits you.
We recommend combining two or more of them for the best results. The more sources of knowledge you can rely on as a leader, the quicker you'll progress.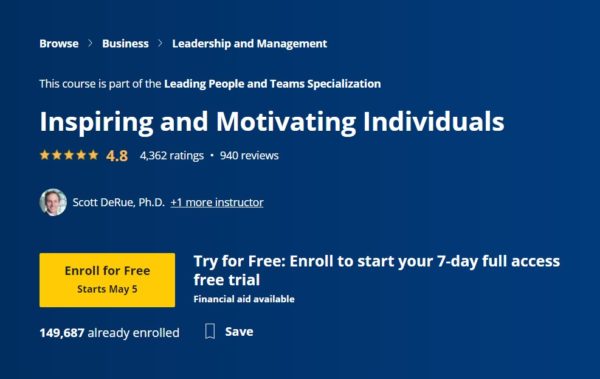 TL;DR: The most comprehensive course on the list, with 12 hours of quality content. It's available with subtitles in multiple languages, too.
The experienced instructors are from the University of Michigan and offer plenty of useful insights into motivation. However, be prepared for a tedious peer-graded assignment you can't skip. You can enroll for free, but the course requires a credit card number to let you register.
The Good
Scott DeRue, one of the course's instructors, is reported to be among the 50 most influential business professors in the world. Earlier in his career, Scott worked in private equity and management consulting.
He and his co-instructor Maxim Sytch bring a wealth of experience to the table. Prior to entering academia, Sytch worked in the financial sector for Merrill Lynch and the Central Bank of the Russian Federation.
Don't let the fact this course is hosted by the University of Michigan fool you. This is something everyone can learn from - not just college students.
The 12 hours of video content covers topics such as:
Setting Effective Goals and Expectations
Understanding Human Needs and Drivers of Performance Across Cultures
Aligning Rewards and Behavior, and more.
"Inspiring and Motivating Individuals" has an overwhelmingly positive 4.8 out of 5 star rating based on feedback from 4,000+ people. Best of all, 22% of people who completed this course reported getting a tangible career benefit thanks to it. 18% also reported receiving a pay increase or promotion. Wouldn't we all like that?
The Bad
This is a 12-hour course, which means not everyone will have time for it. Its biggest drawback is that you can't complete it until you grade all of your peers' assignments. This makes it an even more time-consuming project.
There have also been complaints of people finishing the course and not receiving a certificate (despite paying for it). The support team can also be slow to react to inquiries and reported issues.
TL;DR: A solid guide that covers all the essentials of motivating your team in just one hour.
Instructor Evan Kimbrell has produced a number of quality courses on Udemy and has valuable experience working on hundreds of app development projects. Unfortunately, 60 minutes of video content is not enough time to really dig into such a nuanced topic.
The Good
We've watched several of Evan Kimbrell's courses and his experience on Udemy means he is a very engaging presenter. This course is packed with useful information for specific scenarios, including motivating different types of teams (e.g. creative and virtual teams). You'll also learn a couple ideas for how to overcome low team morale and keep yourself motivated as a leader.
The course features one hour of on-demand video material, five additional articles, and 11 downloadable resources. Kimbrell has participated in more than 100 app development projects and shares relevant experience for any leader working at a tech company.
The Bad
This course is packed with content and covers many essentials of motivation. However, there's only so much you can do in 60 minutes. All of Kimbrell's ideas sound great in theory, but it would have been nice to see some more actionable advice on applying them.
We also found the course had slight issues with pacing. The amount of information in certain places felt overwhelming, whereas the course dragged on for too long in others. We believe this is a consequence of trying to split the content evenly among units in a way that feels unnatural.
TL;DR: Includes a stellar line-up of instructors such as former NBA commissioner David Stern, and best-selling author Dan Pink.
It has great production value and presentation, but the course is only 25 minutes long. It also requires you to sign up for Linkedin Learning and enter your credit card number.
The Good
This course was produced by BigThink and is hosted by Linkedin. It includes advice from experts such as: David Stern, former NBA commissioner; Linda A. Hill, professor at Harvard Business School, Carson Tate, author and productivity consultant; Daniel H. Pink, bestselling author; and Lisa Bodell, CEO of FutureThink.
That's an impressive pool of talent and experience anyone can learn from. The course covers topics such as:
The four common communication styles
Micromanaging selectively to get the most out of your team
Increasing low motivation and developing mediocre employees into high performers,
Balancing autonomy with accountability, and more.
Linkedin has really stepped up their game when it comes to their course offering. This is a great example of the unparalleled production and presentation values in their educational material.
The Bad
No matter how amazing the instructors are, they each get five minutes of talking time in this course. At 25 minutes, Linkedin's course on motivation is more of a primer than a comprehensive guide.
Additionally, signing up requires creating a Linkedin Learning account and entering your credit card information. You won't get charged if you cancel before your 1-month free trial runs out, but this is still kind of a hassle.
TL;DR: A true giant when it comes to workplace research, Gallup offers an intensive two-day course that will equip you with every strategy you need to keep your team engaged.
It also comes with seven comprehensive guides you can use to improve as a motivator after the course is over.
On the downside, as with any two-day course, you are likely to have difficulties remembering all the concepts you learn in such a short amount of time.
The Good
Gallup's course is based on their in-depth research and offers proven methods for motivating your team. It teaches managers how to foster engagement through their Q12 framework.
As the name suggests, the framework has 12 foundational elements you must address to become a better motivator.
Some of them include:
Setting clear expectations
Providing team members opportunities to express their opinion
Encouraging employee development
Giving praise, and others.
Participants who complete the in-person format of this course earn professional credit hours from HRCI (14.5 hours) and SHRM (14.5 hours).
With this course, you'll also receive a collection of Gallup guides to help you apply what you learned. According to Gallup, people who have completed this course have reported a 14% increase in their team's engagement.
The Bad
This is a two-day live course with a lot of information presented at once. Participants may have issues with remembering and applying every concept taught in it. After all, it's in our nature to quickly forget information if too much is presented at once.
This is a concept in psychology known as the 'Ebbinghaus Forgetting Curve', and you can read more about it in a case study we did with a company called Jornaya.
Additionally, Gallup's course focuses more on how to engage your team than motivate them. While the difference is very subtle, you won't get scenario-specific advice like in the other courses on the list.
There's no mention of overcoming challenges like low morale or employee turnover, and with the price hovering at around $3,000 per manager, this is by far the most expensive option on the list.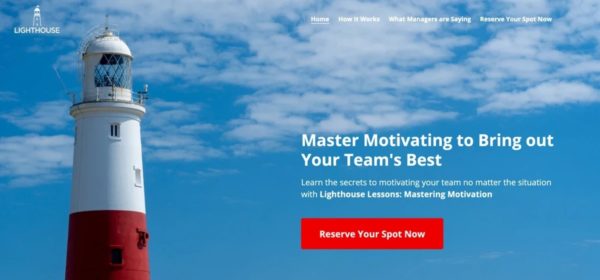 TL;DR: A great course for managers with hectic schedules who want an actionable way to improve in ~15 minutes per week.
It covers 10 key aspects of motivation for a variety of scenarios with specific actions and step-by-step instructions at the end of each lesson, so you immediately put into practice what you learn.
Not having an instructor means this is a less traditional format than the other courses on this list driven by videos or an instructor. However, you can reach out to the Lighthouse team for any questions you may have about applying the lessons to your team, and they do a bonus Q&A lesson at the end of the program to help with subjects not found within the 10 lessons.
The Good
Lighthouse Lessons helps managers with extremely busy and inflexible schedules work on specific leadership skills. You don't have to worry about catching up on a couple days of missed work, nor carve out massive time commitments to watch tons of videos and take notes.
Each of the lessons takes you around 15 minutes to complete, so you can squeeze it into your regular routine. Every lesson has an action item with instructions at the end of it. This means you're not just adding knowledge, but also applying it where it matters: your team. With Lighthouse Lessons, you can see immediate results, even after just the first lesson.
The bite-size format will also ensure you won't miss applying something because you learned too much at once. You're focusing on one area per week for maximum effect.
One of the biggest benefits of our program is flexibility. You're free to take the lessons at your own pace, whenever your schedule allows it.
"Master Motivating to Bring out Your Team's Best" includes tips on different aspects of motivation, including:
Thriving in times of chaos and uncertainty
Turning around underperformers
When and how to praise your people to bring out their best
All the tools you need to uniquely understand and motivate each person on your team, and more.
Also, the Group Edition of the program allows all your managers to exchange ideas and level up their motivation skills together. This is aided by the group discussion agendas we provide with each lesson.
Here's how Lisa Eckel, a three-time participant of Lighthouse Lessons, explains the benefits of the Group Edition:
"The impact for each person was different, but what was consistent across the board was that everyone became more self-reflective about their management style and identified areas that they needed to work on.
The Bad
Our email-based program may require some adjusting for those more used to video content or live sessions. There's no live instructor you can raise your hand to (though you can email us and we always respond to your questions as quickly as possible).
While we give you some further reading and the occasional video to watch, those require an extra time commitment beyond the 15 minute lessons.
Additionally, "Master Motivating to Bring out Your Team's Best" offers no course credits or certificates upon completion.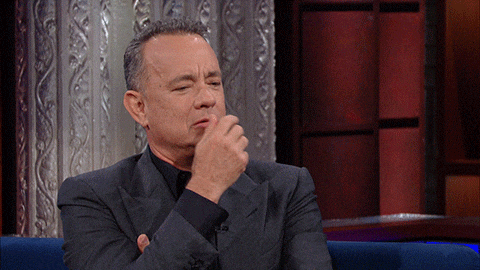 Conclusion
If you haven't developed a strategy for motivating your team by now, there's no need to worry. You can choose from a variety of courses that can help you motivate your team to bring out their best.
They all offer effective long-term methods for keeping your team engaged and dealing with low team morale.
Where they're different, however, is their format and the way they present information. Some are videos you watch on your own, some have instructors, while Lighthouse Lessons is fully self-directed.
In some of the courses on the list (like Udemy or Coursera), the content seemed drawn out for no good reason. We think this was done to create similar sized videos for each unit. Understandably, this can feel tedious at times. We often watched parts of them at 1.5x speed. However, these two courses more than make up for that thanks to the valuable insights offered by their instructors in other units.
Gallup offers a highly comprehensive guide and framework for making you a great motivator. The main drawback, however, is that the format is a high-intensity, 2-day program. Remembering a huge amount of information after a couple of days of sessions that took you away from your team, email, and meetings can be a challenge. Its $3,000 price tag also seems steep considering the effect of COVID-19 on our economy.
And as star-studded and beautifully presented Linkedin's course is, its 25-minute length puts it more in the category of a primer than comprehensive solution.
Taking action with Lighthouse Lessons
With Lighthouse Lessons, our team created a resource that gets you to act on everything you learn, but doesn't disrupt your day-to-day activities.
The bite-sized, 15-minute format means you're free to fit in the program whenever works best for you.
Also, the 10 lessons are stretched across 10 weeks. This gives you plenty of time to process and apply each lesson after reading it as you literally have a full week to think about, act, and reflect on it.
The truth is, no amount of content will make you a great leader that brings out your team's best if you don't take action to apply it to your team. That's why we focused on creating the perfect-sized format to help you stay committed.
Instead of creating hours and hours of content you have to dig through to find something you can apply, we break down key nuggets of information and tell you exactly how to use them in your work environment with your team.
And if you're looking to grow a group of your managers, the Group Edition is perfect for you and your colleagues. We'll provide you with group discussion agendas to help you exchange key ideas, build bonds, and discuss how best to apply them to your teams. Other leaders have reported it's had an amazing impact on the relationships of their managers.
If you want to join our program, which starts Thursday, May 20th, you can do so by signing up here now: https://lessons.getlighthouse.com

If you have any questions about Lighthouse Lessons, feel free to contact us at [email protected]. You can also check out our program FAQ page.