Praise is one of the most powerful things a leader can offer their team.
When delivered well (and well-deserved), praise gives people the drive and motivation to continue doing the caliber of work you want to see.
This is why Mary Kay Ash, founder of the Mary Kay Cosmetics empire, remarked: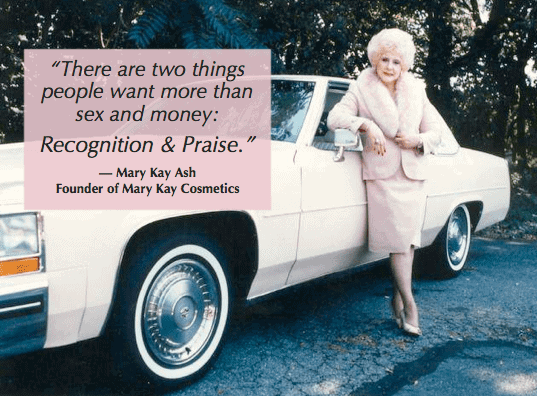 These words ring as true today as they did when Ash first spoke them. Whether in the workplace or in our personal lives, receiving acknowledgment for our efforts and achievements can be a powerful motivator.
When we feel that our hard work is being noticed and appreciated, it encourages us to continue striving for excellence. This is why effective leaders make it a priority to provide regular and meaningful feedback to their team members.
Research reported in the Harvard Business Review shows that teams that are praised most outperformed those praised less across key criteria like financial performance, customer satisfaction, and 360-degree feedback.
Despite the significant impact that praise can have, many managers struggle to deliver it effectively or to give it frequently enough. In this article, we'll give you 9 effective approaches to praise your team members, so you can be the kind of leader who gets the exceptional performance levels reported in HBR.
Table of Contents
Why Praising your Team is Important
The power of workplace praise is more than anecdotal. Gallup found that giving praise has a profound impact on a company's bottom line and its retention:
"[Those answering "strongly agree to] "In the last seven days, I have received recognition or praise for doing good work" is responsible for a 10% to 20% difference in revenue and productivity.

Employees who report that they're not adequately recognized at work are three times more likely to say they'll quit in the next year."
And several other benefits have been reported by recent large-scale research:
Management experts Adrian Gostick and Chester Elton's The Carrot Principle: How the Best Managers Use Recognition to Engage Their People, Retain Talent, and Accelerate Performance revealed data from a 10-year study of more than 200,000 employees. They found that managers who consistently praise their employees have a lower turnover rate and "79 percent of employees who quit their jobs cited a lack of appreciation as a key reason for leaving."

The same study found that more consistent workplace praise also helps employees achieve better results, with 66% of respondents citing "appreciation" as a significant motivator of performance.

Consultancy firm Towers Watson also found in their Global Recognition Study that praise and appreciation is one of the most important factors in building trust. More than 40% of those respondents who cited not feeling appreciated said they didn't fully trust their managers and believed their managers didn't trust them.

The same study also found that managers who make it a habit of recognizing their employees saw "increases in engagement by almost 60%":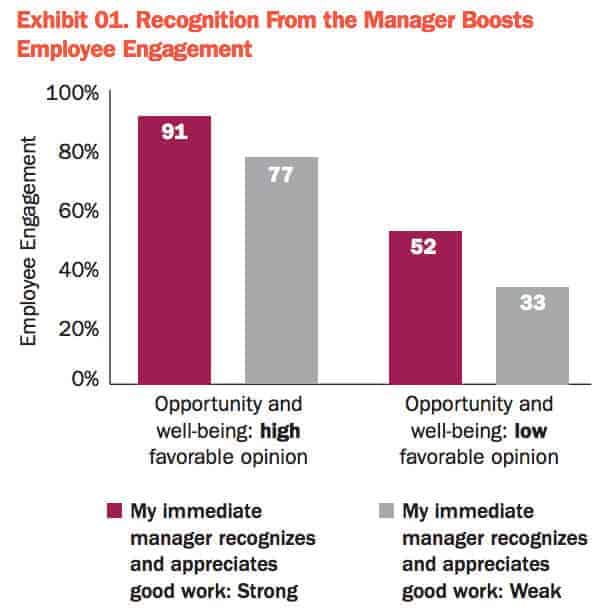 However, knowing you should give praise, and actually doing it are two different things.
Not only do you need to build the regular habit, but you also need to mix it up. Saying the same thing over and over to your team will lose its impact over time.
9 Effective Ways to Praise Your Team to Boost their Performance and Motivation
It's not always easy to know when or how to praise people on your team. You only want to reward great performance, and it's easy for routines to make you blind to steady, reliable work.
Use these 9 approaches to make sure you're not missing any opportunities to thank and reward those on your team deserving of recognition: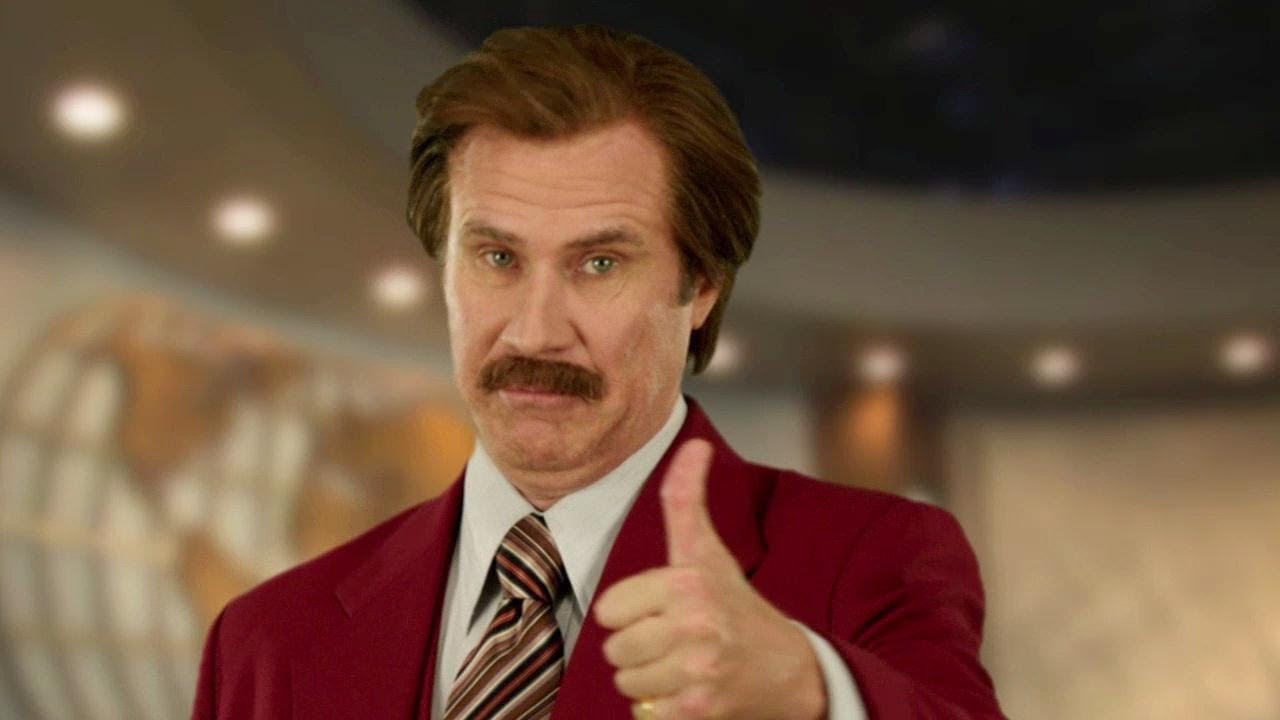 1. Recognize a project hero
Did someone on your team go the extra mile on a recent project? Is there anyone that was critical to its success? Don't let them go unnoticed.
A simple note thanking them or some personal recognition in your 1 on 1 meeting with them can make all the difference. A moment of thanks to them can be all the fuel they need to want to keep working that hard for you and the team. Try something like:
"Thanks for your hard work on the last project, Anthony. Your extra effort helped us deliver it on time and really wowed the customer. We couldn't have made it happen without you."
Remember: As Gallup showed us, those going unrecognized are 3 times more likely to quit.
If you were working extra hard on every project and no one seemed to care, would you stick around? Probably not. Don't do that to your team, especially for those making the biggest impact on your key projects.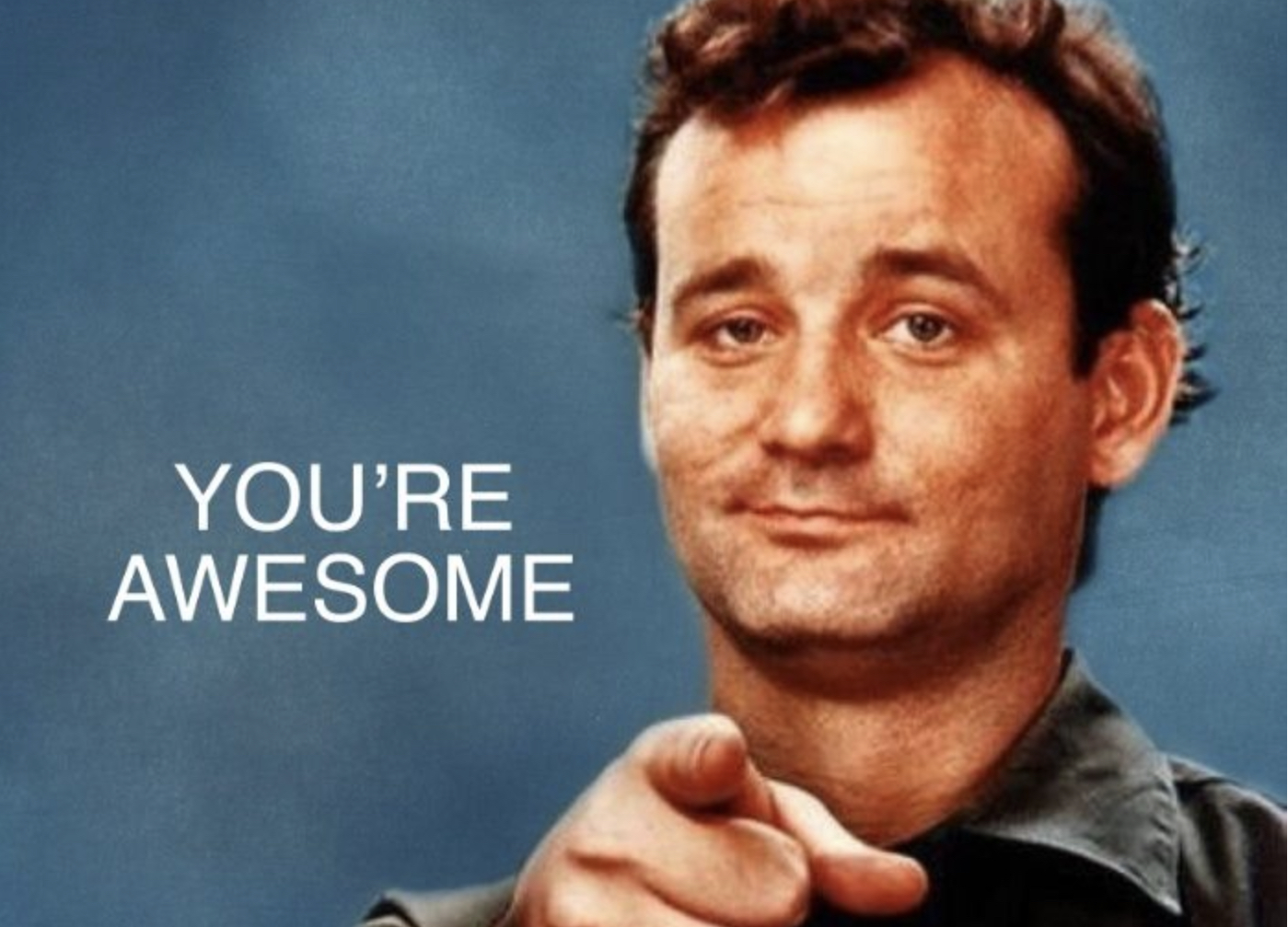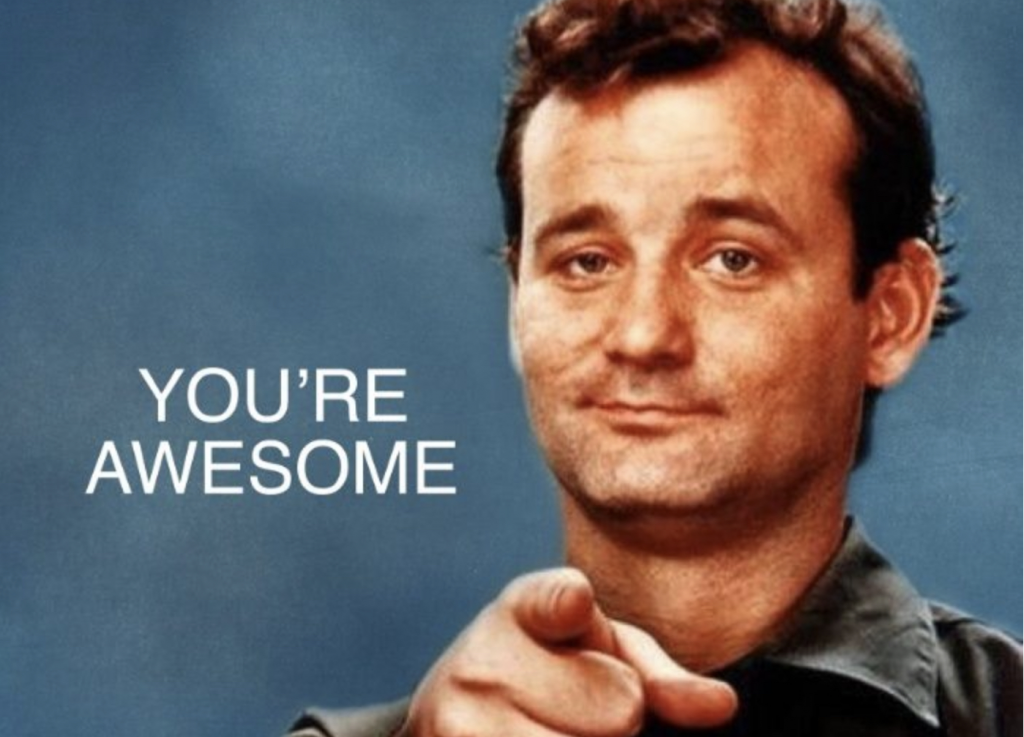 2. Notice your unsung heroes
"Reliable", "consistent", and "trustworthy" are the kinds of characteristics most managers would look for in a potential hire. Yet, once you hire them, it's often exactly the people exemplifying them most that you take for granted. Don't forget your unsung heroes.
In Gallup's, First, Break all the Rules, they share some really interesting findings on what it really takes to be an effective manager.
As Gallup found, the best way to have high performance at all levels of your org is to, "Create heroes in every role. Make sure every role performed at a level of excellence is treated as a respected profession."
Even the most junior person on your team, the lowest paid, or the ones that do the most repetitive work, deserve and will appreciate, praise.
If they're excelling at their job, tell them. Not sure how? Try something like this:
"Jamie, it goes unsaid too much, but we really appreciate how you are consistently so warm, and helpful to our customers. No matter how rude they are, or challenging the issue, you always leave them better off than when they started. I want you to know that I notice and appreciate your efforts."
If you imagine everything would fall apart, or not sure what you'd do without someone, make sure you tell them thanks from time to time. You may be surprised how far a little appreciation, and perhaps a thoughtful gift, can go to continue to fuel and motivate your unsung heroes.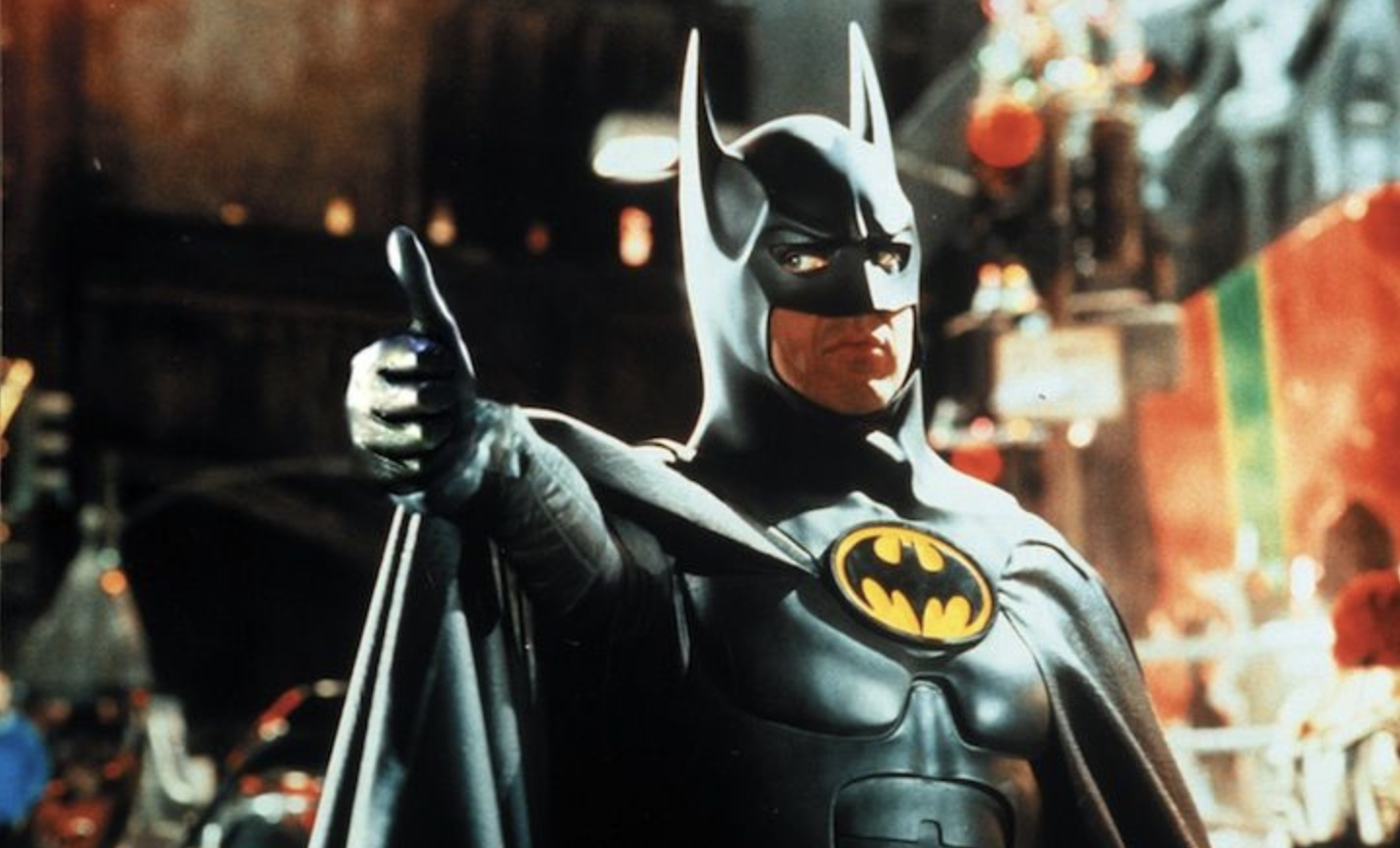 3. Dig into their work and find something you like
As your team grows, it becomes harder and harder to keep a close eye on the work of everyone on your team. What you see, versus all the things they actually do behind the scenes can be very different.
Henry Ward, CEO of Silicon Valley startup Carta, captured this well in his post on manager FAQs:
It's easy to catch a problem in someone's project: a bug, a typo, a grammatical error. Unfortunately, if you only focus on what's wrong, you can discourage your team.
In research published in the American Behavioral Scientist, researchers Heaphy and Losada, found:
"The factor that made the greatest difference between the most and least successful teams was the ratio of positive comments to negative comments…

The average ratio for the highest-performing teams was 5.6… The medium-performance teams averaged 1.9… But the average for the low-performing teams, at 0.36 to 1, was almost three negative comments for every positive one."

If you're looking for ways to improve your praise to criticism ratio, take 5 minutes and dig into recent work by one of your team members. Look for more than what's wrong. Find things you like and praise them for it. Try something like:
"Samantha, I like the visuals you chose in your presentation. They do a great job of highlighting the most important points."
As with all workplace praise, the more specific you can be with them, the better it will be received. If they know you're paying attention, they're more likely to keep putting in the effort you want to see.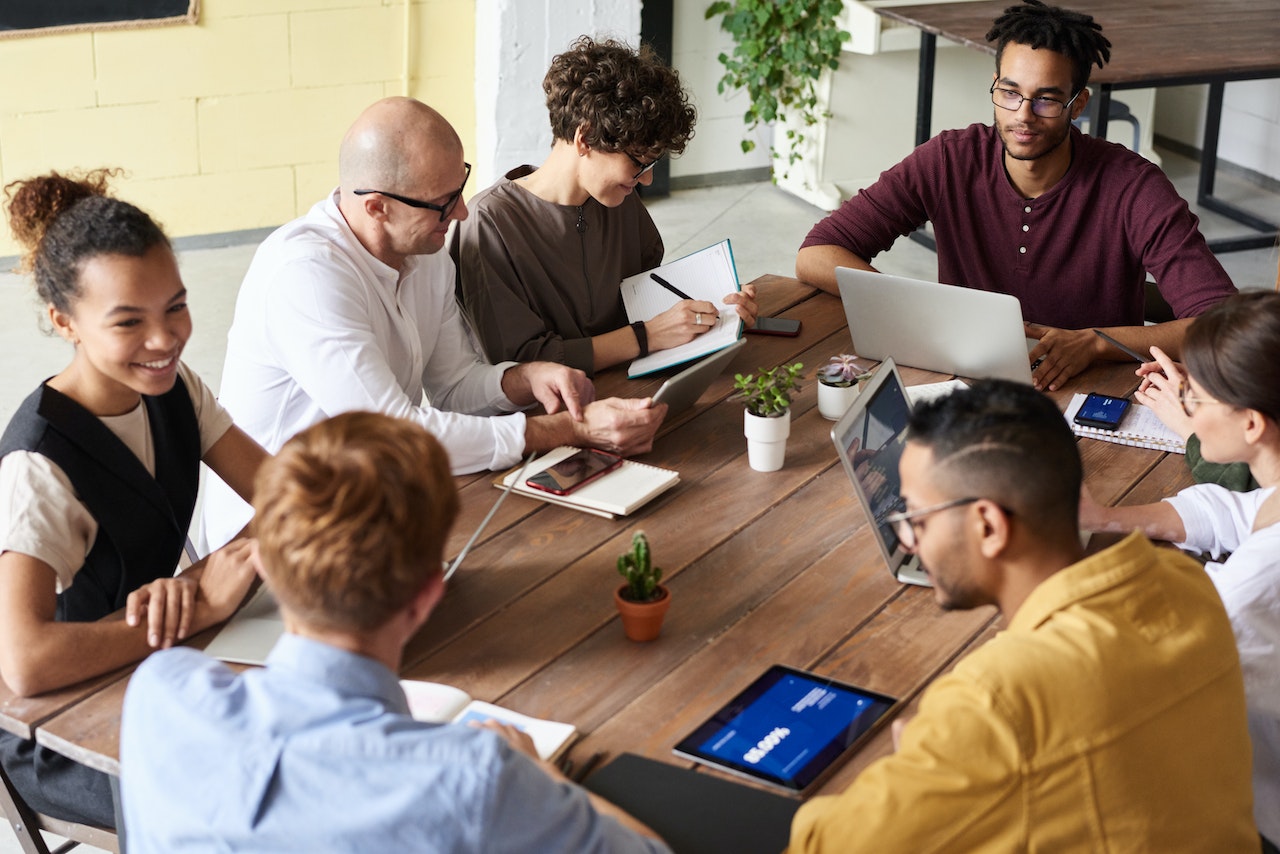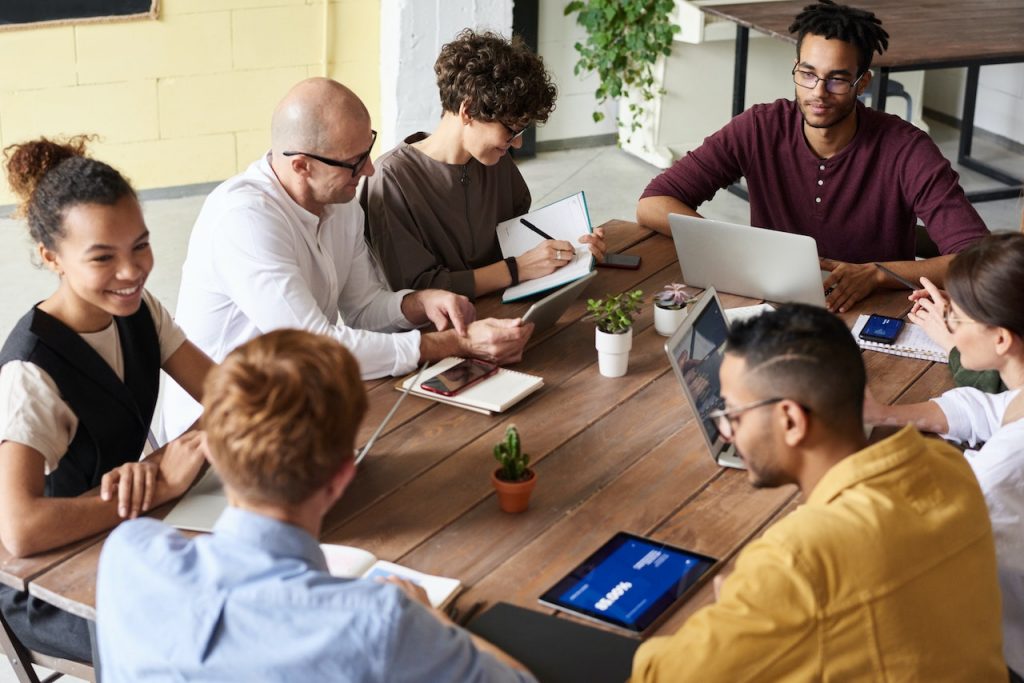 4. Praise what your team loves about each other
You may be surprised to learn that one of the most effective ways to give praise doesn't require you to think about what you're going to say to a team member - you can let their colleagues do that for you.
Your team will often know who's doing a great job, sometimes even better than you. And praise from your peers can feel particularly special, because you interact with them every day to complete your work.
It's why JetBlue introduced the idea of coworkers nominating a person for everyday contributions as well as exemplary work or effort. The recipient of the recognition is then given points that they can decide how to spend (dinners, extra days off, etc.).
Thanks to encouraging more peer-to-peer praise, the company saw a 3% increase in retention and a 2% increase in engagement for every 10% increase in feedback people shared.
Now, you don't need an employee recognition program to get these benefits.
All you have to do is ask…
Uncover opportunities to share peer-to-peer praise by asking your team members questions like:
Who on our team is doing a great job?
Who do you enjoy working with most?
Who did exceptionally well in project X/Y/Z? Why?
When you hear their answers, be sure to practice your active listening skills. Find out *why* a peer is praising their colleague. That way you can deliver praise that has just as much impact as if it was directly from you.
Then, in your 1 on 1s with the person you heard is doing great, tell them about what you heard.
Even better, by asking everyone on your team about these things, you may hear the same name repeatedly. When that's the case, you can really make their day by letting them know a lot of their peers recognize their efforts.
And for anyone on your team that you don't seem to be hearing positives from their peers, that may be a sign to investigate where you may need to coach that person and improve them.
Further reading:
For more ideas for praise and motivation, check out this guide:
For team members you're having a hard time finding things to praise, consider our post about ways to give feedback.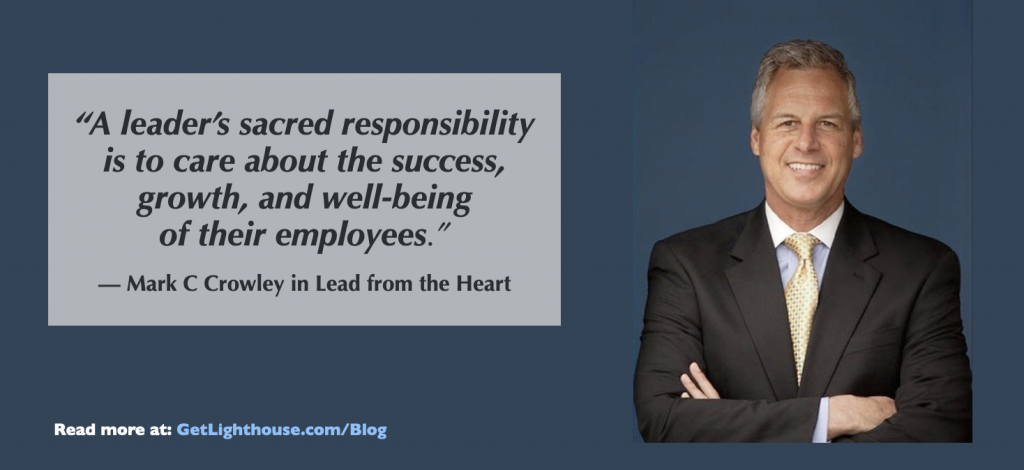 5. Pick something to change and praise any demonstration of that change
When you're trying to turn around an underperforming employee, or just coach up someone's weakness, praise can make all the difference. It takes hard work and focus to improve at something you're struggling with.
Think about when you were a kid trying to learn to ride a bike, throw a ball, or learn to read. You had to fail many times before you succeeded.
And what helped you keep trying? A friend, family member, or parent, encouraged you.
While we're not kids anymore, we are still motivated by praise and recognition. If you're trying to get someone to improve, praise them when they start doing what you ask them to. Try something like:
"Jordan, I'm glad to see your attention to detail has improved. Well done. I didn't see any typos or grammatical errors in your report. Now that I know you can do it, I hope to see this every time."
Letting people know you're paying attention, and feeding the seedling of better performance with praise, can help those on your team struggling to stay on the path to improvement.
Want to learn more about helping team members who have room to improve? Read our post: How to Give Constructive Feedback
6. Tie their efforts to a bigger purpose
Recognition for a job well done can go a long way towards making people feel good about their work. But, if you want to really praise like a pro, you'll also remember another key to motivating your team: Purpose.
In Dan Pink's book, Drive, he showed how sharing the deeper meaning and purpose of someone's work can have a major impact. In a study of call center reps at the University of Pennsylvania, he discovered:
"The people in the group reminded of the personal benefit of working at a call center were no more successful in raising money than those in the control group.

But the people in the second group, who read about what their work accomplished, raised more than twice as much money, through twice as many pledges as the other groups."
Notice how the key was the higher purpose. The benefit of having their job wasn't enough. Only when the workers understood the good that was done with the money they raised, did it have an impact on their work.
Remind your team members of the why of their work.
Next time you're praising someone on your team, think about how you can include the why behind their work. Try something like:
"Thanks for your hard work, Byron. Your extra effort on the partnership plan helped seal the deal. We now can help twice as many patients and their families as before."
When people understand why their work matters and how it ties to your company's greater purpose, you tap into their highest level of motivation.  Don't miss out on such an inexpensive way to motivate your team.
7. Give public praise
Praise can be given behind closed doors or even just a quick DM over Twitter at the end of the week:
Friday work tip:

Before the weekend. DM one coworker who impressed you this week. Let them know.

— Mike Coutermarsh (@mscccc) October 12, 2018
But you can also choose to make that praise public. By offering public praise, you can make the impact of that show of appreciation much more powerful.
This is especially powerful for anyone who typically works "behind the scenes" and isn't used to receiving recognition for their work publicly.
Keep in mind that every employee is different. Some employees absolutely love public praise, while others will feel deeply uncomfortable with it. This is why it's important to take time to get to know everyone on your team, so you use the right kind of praise for each of your team members.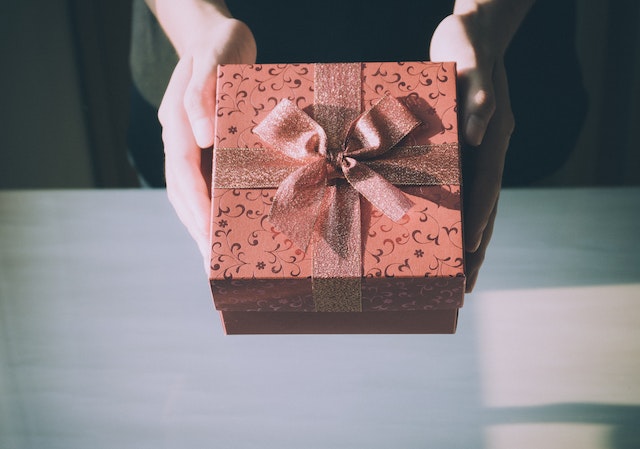 8. Give thoughtful gifts as a token of appreciation
Thoughtful, inexpensive gifts are a super easy way to show your appreciation and make your team member's day.
For really important wins, you could get them something significant like tickets to a concert or sporting event they'll love. However, the amount you spend is secondary to the thought you put into it; you could give them something just as meaningful for even $10 (or less).
Want to make sure you remember the little details that can help you get the best possible present for your team members? Download our free 1:1 meeting template and we'll give you an entire rapport section where you can write down ideas for gifts that can make your team appreciate you more.

Nate, an engineer I used to work for when I ran product at KISSmetrics, was obsessed with retired Cleveland Cavalier Mark Price. He had been doing great work recently and I wanted to show him some appreciation.
So, I found this on eBay for less than $10. The result (he posted to Instagram) speaks for itself: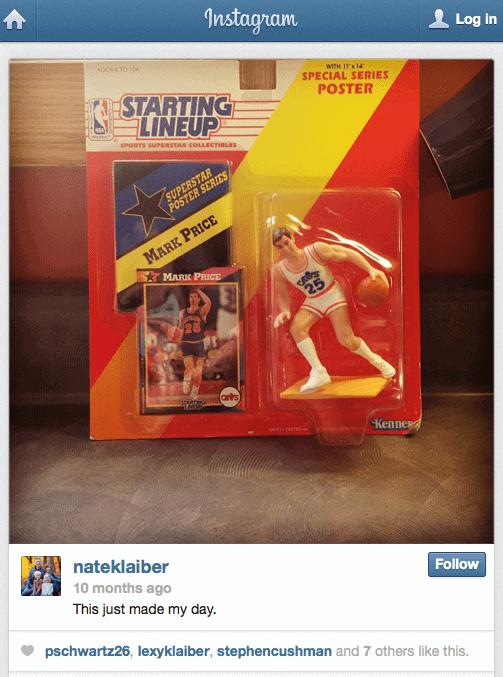 You can do the same for your team, and get a similar reaction if you take the time to get to know them and tie it to praising something great they did.
9. Award great work with new responsibilities
Another creative way to offer praise is to reward your team members with new work and responsibilities they're interested in.
Consider the person who has gone above and beyond on a previous project. Seek to reward the habits, actions, and behaviors you value through the work and assignments you give.
If someone stands out, give them the opportunity to take on a project they're passionate or excited about. This can be a powerful reward, even if it's only a small project.
This can also double as not only a good opportunity to offer praise and recognition, but also a great way to offer an opportunity for growth. Often, to get a promotion, your team members will have to demonstrate mastery of a variety of skills, and this is a great way to get them to progressively build them.
***
Want more ways to motivate and get the best from your team? Then try Lighthouse today.
​Lighthouse was built with best practices by the top managers to help you make the most of the time you invest in your people during your valuable 1-on-1s, including learning who to praise on your team by asking their peers. 
​
​Sign up for a 21-day free trial now and see how we can improve your relationships with your team members and boost their morale & engagement.
Conclusion
Giving praise to your team costs you almost nothing. It takes no money, and usually very little time.
What it does take is thoughtfulness and care. And that, at its core, is what drives your team to perform at their best.
Your team wants to know you care about them. They want to be recognized when they do their best work. Use these approaches to help keep your praise fresh, and always have an approach for any situation with a team member.