How effective are the leaders in your organization? Are you developing new leaders to keep up with your growth?
Does your leadership training help your managers build the right habits? Or are your people largely on their own to figure out how to manage, motivate, and develop their teams?
Lighthouse can help you and your leaders build the habits and learn the best practices that create great organizations, all while giving you the visibility and peace of mind you need. Here's how:
1) Ensure every employee has a consistent, strong relationship with their manager
Employees leave managers, not companies. Lighthouse brings the fundamentals of great management to every one of your managers.
This allows you to focus your leadership training on how to handle what comes up in the conversations we help foster in their one on ones, and the values unique to your organization.
With Lighthouse, managers have one, easy to access place for everything they need to manage and motivate their teams. Our framework of building rapport, helping your team with their career goals, and having great one on ones helps managers focus on their people, not the process.
2) Help your leaders coach their managers with context
As your team grows, you eventually have to develop new managers under you. And one of the hardest things for a manager is letting go.  New managers not only need your advice on how to lead and manage, but often people who reported to you now report to them; ensuring the new leader takes care of your people like you did can be stressful and concerning.
Lighthouse provides a Coach's View, so you can see the team members of the managers who report to you. This helps you have peace of mind that one on ones are happening. It also helps you have better one on ones with the new manager; when you become a manager, your one on ones often become more about questions and challenges with your team.
The Coach's View helps leaders get context on questions like, "How can we help Amanda with this goal?" and Susan asking you, "Something came up in my one on one with Tom, how do I handle that?"
Other uses for Coach's View:
Access for HR Business Partners paired with a manager.
Access for leadership coaches you hire for a manager you're developing.
Be prepared for your skip level one on ones by seeing an employee's goals and recent conversations.
3) Avoid morale drops with easy re-orgs
When companies re-org and people change managers, morale often drops for months until new relationships are built. It can be really frustrating to start over building trust with a new manager.
Even worse, any career discussions and growth have to start from scratch. This can be particularly frustrating for team members who were close to having their manager advocate for a promotion or new role.
With Lighthouse, each team member has a profile their manager keeps. When they move to a new manager, it can easily be transferred to their new manager. The new manager can now pick up where the last manager left off in one on one discussions, career development, and understanding the team member's motivations.
4) Ensure information flows up & down your org
One on ones are a fantastic time to share information, gather ideas, and give or receive feedback. As changes occur in a company, it can be critical to shop changes in advance to ensure buy in. It's also important that good ideas are surfaced and brought to the right person's attention.
Lighthouse gives you and your managers a central organized place for everything you need to have great one on ones.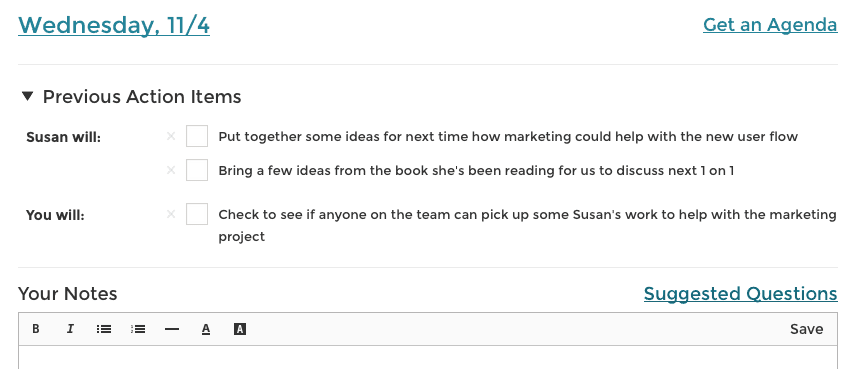 Lighthouse gives managers:
Suggested Questions to spark the right conversations at the right time.
Action Items to ensure progress between meetings.
Agendas to allow team members to share the topics they want to discuss.
5) Peace of mind
Every person entered into Lighthouse can easily be exported in a clean and simple Excel file. You can use it to better complete performance reviews with a clear record of the past year's discussions and growth, justify promotions and terminations, and easily store snapshots of team member data in any of your other systems of record.
Whether legal needs, a desire for backups, or simply wanting a portable record, Lighthouse has you covered.
Ready to help your company's managers become great leaders?
Seeing is believing. You can set up a call here to learn more and set up a pilot see firsthand how Lighthouse can help turn your managers into great leaders.