Everybody hates employee performance evaluations.
If you're in HR, you know how painful it is having to run them and collate the results. It can take months in a land of paper, pencil, and too many Word documents.
If you're a manager, you likely hate them as well. They're time consuming, hard to complete with all your other work, and challenge your memory of what everyone really did for the last year.
Team Members hate them, too. They are often left frustrated by biased, incomplete, or unfair reviews. They often get a performance evaluation that doesn't accurately reflect the totality of their work. Even if it does, they may be stuck waiting *months* to get the raise they deserve because HR is bogged down.
It's little wonder some people think they should get rid of the performance review.
But is it really time to throw them away? Not so fast.
Reviews have good intentions.

[Ed note- TLDR; today, we've launched reviews in Lighthouse! Below is our thought process on making a dreaded process much better and easier. Skip to the end if you just want to see how we do it, or sign up for a demo here.]
There are quite a few good reasons to have employee performance evaluations at your company:
1) Fairly evaluate people for promotions and raises
By setting aside time once or twice a year, you ensure that advancements are properly reflected in a reasonable time frame.
Given growth and development is a top perk people want, it would be a major step backwards to talk *less* about them by skipping out on the performance evaluation discussion about readiness for advancement.
2) Set a clear time for compensation discussions
Employee performance evaluations help manage the question, "Can I get a raise?"
Without set times for performance evaluations, you could face that question at any time. For those that are ambitious or particularly persistent, you may even face it multiple times a year.
Employee performance evaluations give you a set time so that those that are aggressive, and those more passive, both get fair shakes on compensation changes. It also helps managers have an easy, and genuine, answer to off cycle requests: "We can discuss it at your next review."

3) Let people know where they stand
It's not just about promotions. Your employees want to know how they're doing.
For many busy, under-trained managers, this is the only time they'll give substantial feedback. People crave more feedback than they're getting as is, so removing their single best source is a big step in the wrong direction.
Meanwhile, for your underperformers, this is a key opportunity to get their areas for improvement on record. Without it, you'll have a hard time letting go of someone holding your team back, especially if you need clearance from HR to do so.
More importantly, you'll miss an opportunity to help them understand what they need to do to get better.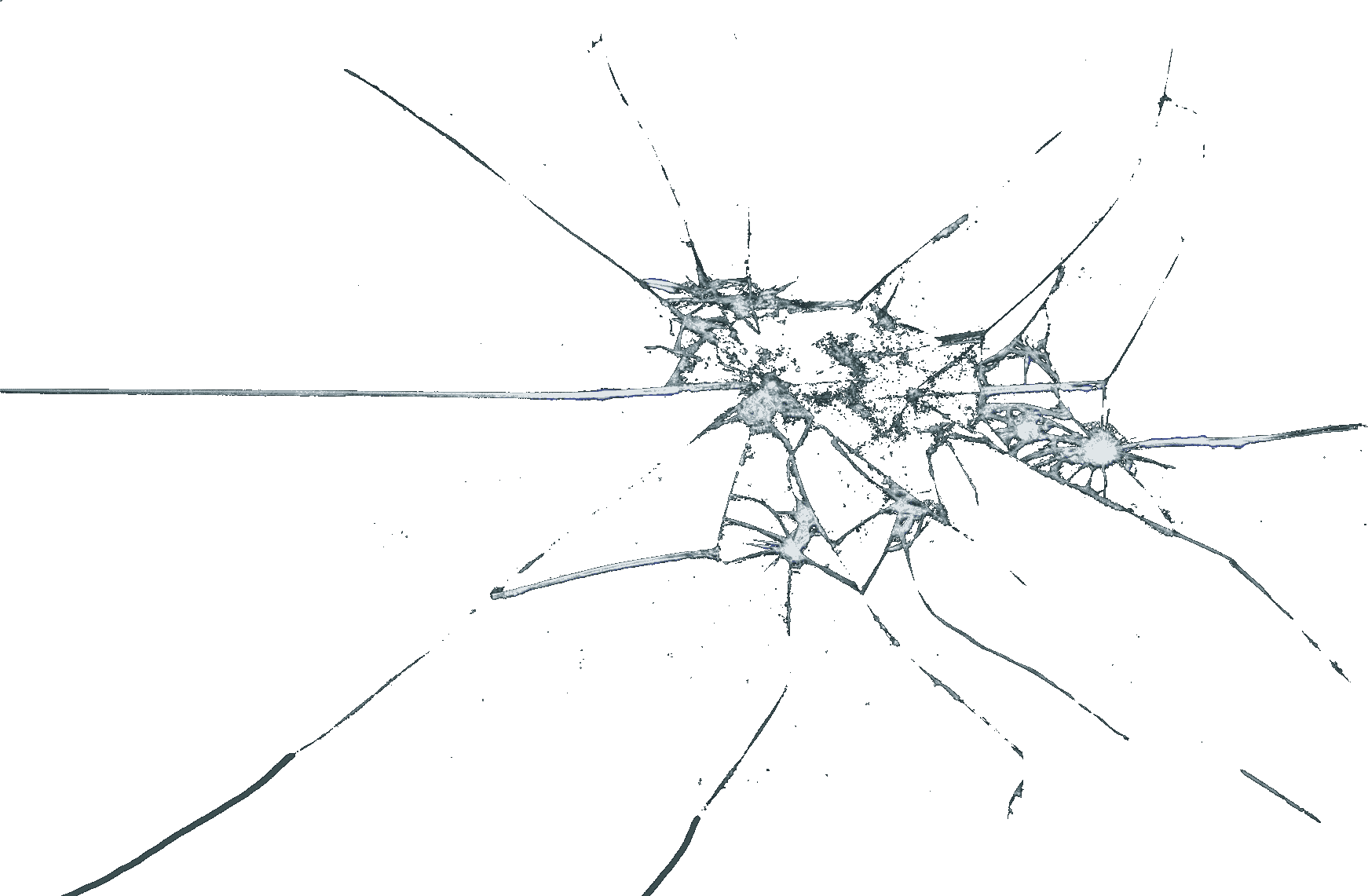 Then why are employee performance evaluations so broken?

There are a variety of reasons performance reviews have failed. We've covered these issues in previous posts on the Lighthouse blog here, here, and here. These are some of the most common reasons:
1) Too heavy
Old systems like 9 box, or just too many questions, can make the evaluations process worse than it has to be.
I've spoken to companies that ask 20+ questions per review. Is it any wonder people complain about completing them under those circumstances? No one wants to do their regular job, plus answer hundreds of questions about their team.
Asking the wrong questions, or too many, can hold the whole process back. The right questions, and simplified reviews can make all the difference. This is the route companies like Deloitte and Google have taken to improve evaluations.

2) Unprepared
Too many managers have nothing to rely on but their memories to complete their performance evaluations. This is a recipe for disaster, and explains why so many reviews end up the punchline of a Dilbert comic strip. More on addressing this problem later...
3) Isolated
Too often, discussions that happen during employee performance evaluations are never discussed again…until next review.
Whether it's 6 months or a year, that's too long. It leads to reviews being a broken record. After 6 months, talking about the same thing again can really frustrate people, whether they feel held back, or unsupported.

4) Lost in the shuffle
Most reviews are written in a document or system that is never looked at again. Whether it's a piece of paper, an excel or word file, or a much reviled HRIS system, managers and team members alike log in exactly as often as required: once or twice a year.
Without deliberate planning, any benefits on the reflection from reviews lasts as long as the manager-team member meeting to discuss them. Then the months-long intermission begins, and most of the feedback becomes lost in the shuffle.
How do we fix employee performance evaluations?

The answers to many of these issues is the latest feature in Lighthouse.
The key to better reviews is two things: Digital Reviews and regular, effective 1 on 1s.
1 on 1s and reviews go together harmoniously. They complement each other like peanut butter and jelly: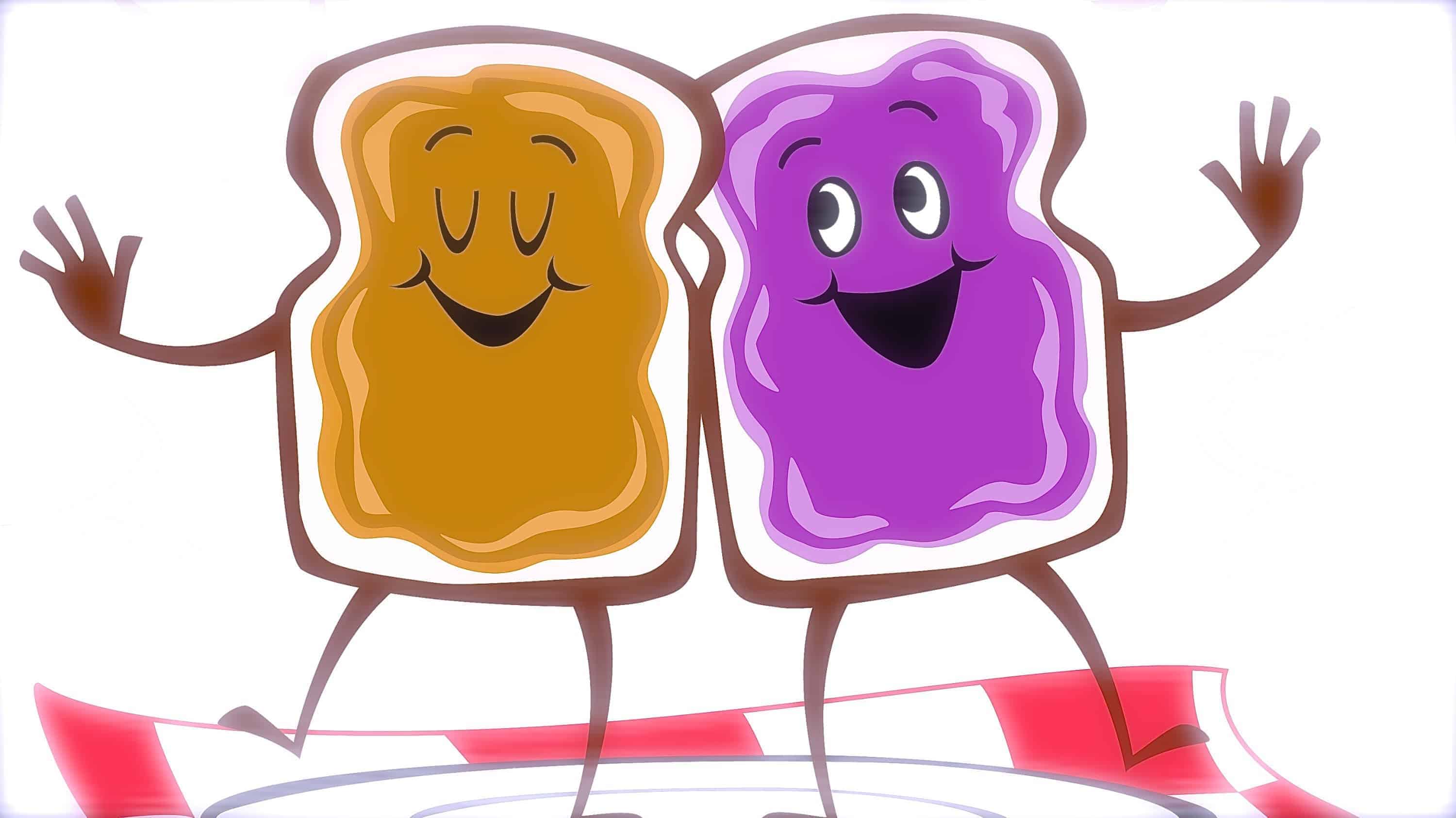 1) 1 on 1s ensure conversations continue year round.
1 on 1s give you an ongoing time every week or two to talk about performance. No more procrastinating on making time to talk about their growth, or completely forgetting about what's important to talk to with them "when you have time."
1 on 1s are like a Swiss Army knife for whatever is most important to discuss at that time:
They also take advantage of the progress principle. It turns out, the best way to make your people happy is to give them hope, by feeling progress on what's most important to them.
What could be more important progress to your team members than:
Improving so they're no longer at risk for poor performance.
Earning their next raise, bonus, or promotion.
Addressing issues bothering them raised in their review of you.
If you want your employee performance evaluations to have the most meaning and benefit, you need regular 1 on 1s between them. Then, you can regularly discuss what was in the evaluations (and a whole lot more), so the next one is different in a positive way.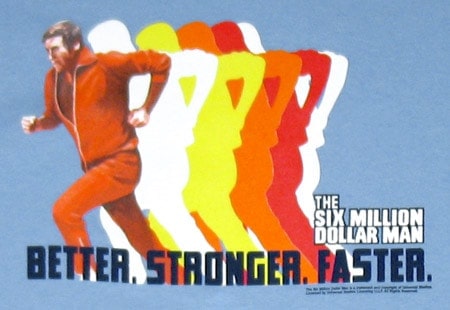 2) Reviews can be easier, better, and faster.
When you have great 1 on 1s, and you take notes, you now have something to reflect on at review time. No more wracking your brain for what you talked about in November. Now you know.
The problem many managers have is that they have either never checked in with their team since last review, or never wrote anything down. An ounce of prevention (taking notes) is worth a pound of cure (better reviews).
Lighthouse has you covered for better employee performance evaluations.
We've got a beautiful, easy to set up review system. Ask whatever kinds of questions you want. We can make recommendations for simple questions great companies use, and you're able to ask any of your own, too.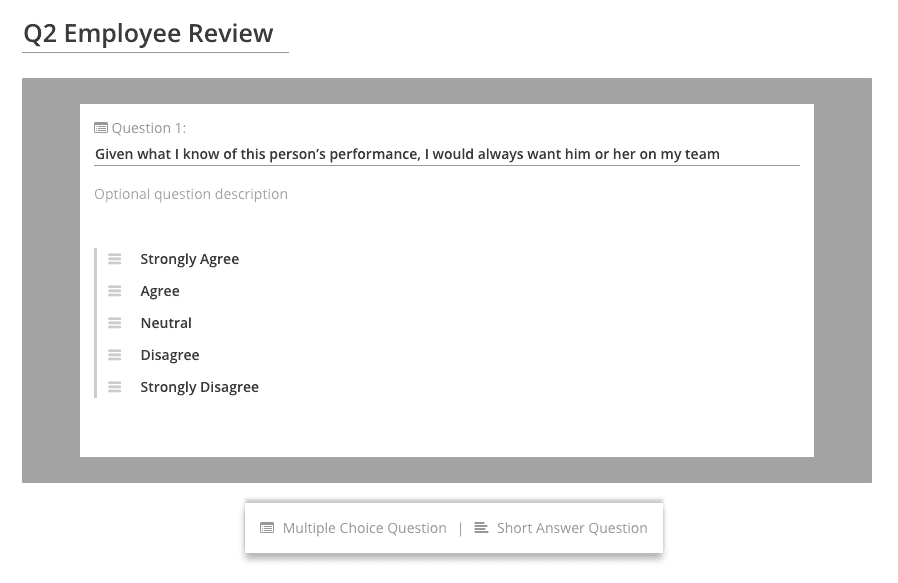 And for your managers, we have a beautiful view to help you write the most meaningful reviews ever. Side by side, they can reference the 1 on 1 notes and goals of a team member, while completing their review: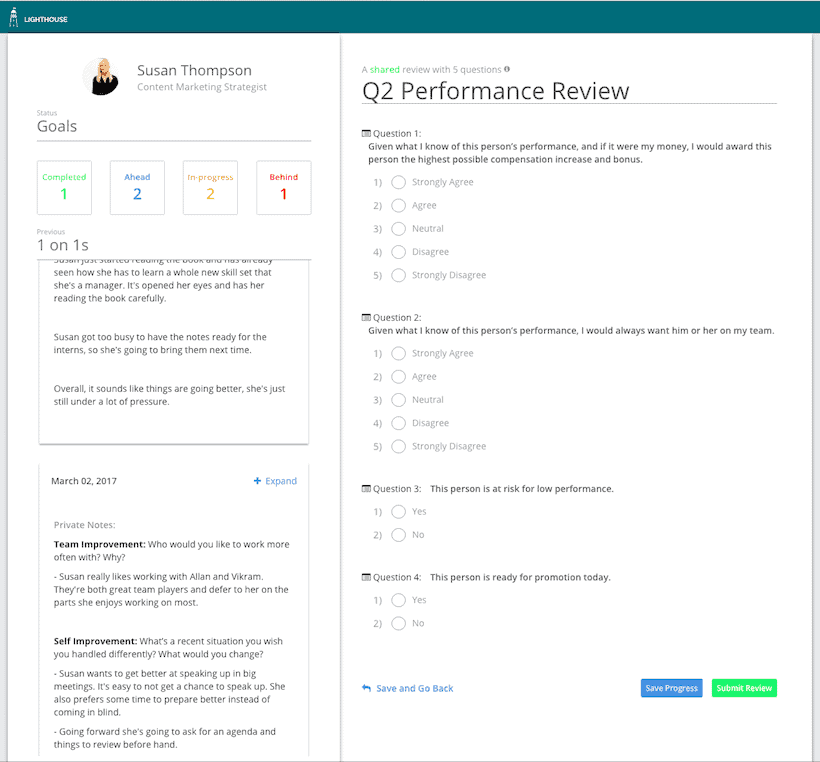 No more trying to remember through your foggy memory, shuffling through a stack of papers, or searching your random notebook. You can actually see what happened, making your reviews more representative of what really happened. All of this without the pain and agony of not knowing what to write.
Always there for easy access.
After completing their reviews, they are always right there with their regular 1 on 1s so they can actually revisit reviews any time of year:
You can't do that with your paper and pencil reviews. They're stashed in a folder, never to be seen again unless there's a big problem. And with Word and Excel files, they're now stashed away online in some corner, never to be opened, either.
Even if you do go digital for reviews, it's not all sunshine and rainbows. I'm always stunned the lengths employees go to deal with horrendous review systems. From UX designers describing how they can't find where to fill out forms, to engineers bookmarking their team members as the only way to manage their reviews, it's not right.
Employee performance evaluations deserve good design, too.
And we're not just talking about how it looks. As Steve Jobs said, "It's how it works, too."
For performance evaluations, it's about making them part of a bigger conversation and relationship with your team members.
The best managers regularly meet with their teams. They help them grow. They fix problems together. And then come review time, there are no surprises.
Instead, it's a reflection on what's happened the last year, and a summary of the smaller efforts made on a regular basis.
That virtuous cycle is what makes great managers and great teams. That's what Lighthouse is all about.
---

Want to have more meaningful reviews and make good management habits a key part of all your managers behaviors?
Then sign up for a demo of Lighthouse here.
All in one always-easy-to-access place. No more paper. No more spreadsheets. No more Word docs. Lighthouse has you covered.